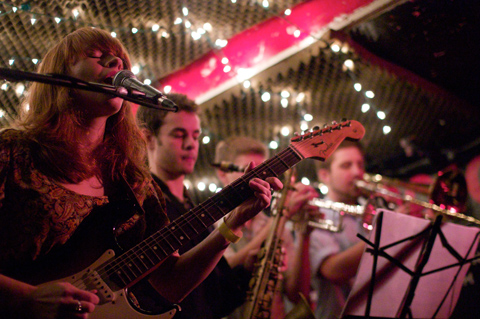 [photo courtesy of Amanda Hatfield]
As with a couple of the bands on our Unofficial CMJ Day Party roster this year, we were introduced to Brit & The Cavalry by our friends over at the Backyard Brunch Sessions.  Brit Boras and the Cavalry (a huge band that includes Alex Beckmann (drums), Dan Krysa (bass), Kevin Birk (trombone), Nick Myers (sax), Billy Austik (trumpet) and Liz Hanley (violin)) play big, effusive songs that are blend of folk, rock and pop, anchored (unsurprisingly) by Boras' classically-strong voice (on article compared her to Tori Amos, a not-unfair comparison).  Boras' voice is the unmistakable focus of the act, of course, no matter how rich the tapestry of sound around her.  BATC is not a conventional turn-of-the-decade Brooklyn band; I could imagine them fitting being just as relevant in 1965, 1995 as they are today.  This five-song set drew from their new Hiker EP, and also featured a couple of numbers I was not familiar with.  We expect to see a lot more of this relatively unique and intriguing band in the future.
I recorded this set in the same manner as our other CMJ sets, with DPA mics nearly onstage and a soundboard feed for the vocals and brass.  The recording is outstanding.  Enjoy!
Stream "Hiker":
[audio:http://www.nyctaper.com/B3107Brit1020/Brit%26TheCavalry-Hiker2010-10-21.mp3]
Direct download of MP3 files [HERE]
Download the Complete show in FLAC [HERE].
Brit & The Cavalry
2010-10-21
NYCTaper CMJ Day Party
Cake Shop
New York, NY
An acidjack master recording
Recorded and produced by acidjack for nyctaper.com
Equipment: DPA 4021+Stereo soundboard feed>Edirol R-44 (Oade Concert Mod) (24/44.1)
Position: Mount above and slightly in front of stage, ORTF
Mastering: 2×24bit/44.1kHz WAV>Audacity (mixdown, set fades, tracking, EQ, amplify and balance)>FLAC Level 8
01 Hiker
02 unknown
03 Melt Into Flames
04 unknown
05 Breathing Underwater
If you download this recording from NYCTaper, we expect that you will PLEASE SUPPORT Brit and the Cavalry, visit their website, and purchase Hiker and their other official releases on iTunes or your preferred retailer.