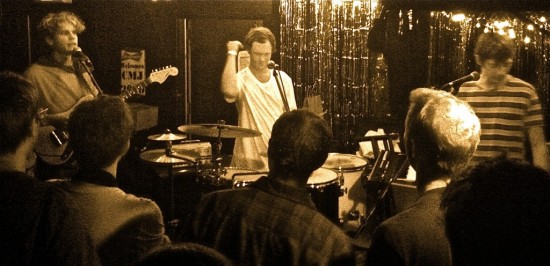 [Photo by acidjack]
Keepaway, who were everywhere during this year's CMJ, fit the NYCTaper Unofficial CMJ Day Party into their schedule, and to great results.  Their tribal sound can veer from jangly rock to trippy sonic freakout rapidly, at times within the same song.  This band sometimes gives you the feeling that they might be fucking with you; they're in on the joke and ready to party – the question is whether you are.  Part of an emerging group of artists that continue to challenge the already-hazy boundaries between dance and rock music, Keepaway are likely to keep attracting interest, especially if they continue landing prime opening gigs like their slot in front of Yeasayer at Governor's Island this summer.  This four-song set included some songs from their FREEWilliamsburg showcase this June at Brooklyn Bowl, as well as a new song we were not familiar with.
I recorded this set in the same manner as our other CMJ sets.  The quality is excellent.  Enjoy!
Stream "100?:
[audio:http://www.nyctaper.com/K2706Keepaway0021/Keepaway-100_2010-10-21.mp3]
Direct download of MP3 files [HERE]
Download the Complete show in FLAC [HERE].
Keepaway
2010-10-21
NYCTaper CMJ Day Party
Cake Shop
New York, NY
An acidjack master recording
Recorded and produced by acidjack for nyctaper.com
Equipment: DPA 4021+Stereo soundboard feed>Edirol R-44 (Oade Concert Mod) (24/44.1)
Position: Mount above and slightly in front of stage, ORTF
Mastering: 2×24bit/44.1kHz WAV>Audacity (mixdown, set fades, tracking, slight EQ, amplify and balance)>FLAC ( level 8 )
01 100
02 Royal Jelly
03 unknown
04 Sideways Smile
If you download this recording, we expect that you will PLEASE SUPPORT Keepaway, visit their MySpace page, and purchase Baby Style (available on vinyl direct from Lefse Records, or on iTunes and other retailers for download).