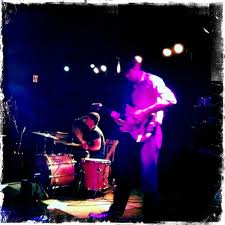 [Photo by acidjack]
The term "lo-fi" gets thrown around a lot, but when you're talking about the Columbus, OH three-piece Times New Viking, it is impossible to avoid it. Where a lot of bands earn the label by dint of using cheap gear and not giving a shit, for TNV, the scratchy, blown-out, distorted sound is an important part of their aesthetic. Their songs arrive in short bursts, almost universally under the three- or even two-minute mark, in a similar vein to kindred spirits and sometime tourmates Guided by Voices. While their new release on Merge Records (their first for the label), Dancer Equired, utilizes more legitimate studio production than their past records – a pretty low bar to set considering that their four previous efforts were recorded to lo-fi analog media such as cassettes and VHS – their live show still has the perverse characteristic of sounding more glossy than most of their recorded work. This Friday night show at the Knitting Factory – well attended despite coming at the start of Memorial Day weekend – found TNV blasting through 22 songs in 50 minutes (including an encore break). The set represented the new Dancer Equired material well, but also gave fans plenty to like from all of their records, including a mean "The Early 80s" from their breakout 2008 record, Rip It Off. Catchy, irreverent, and indisputably rocking, this night with TNV was a perfect way to kick off a Williamsburg Memorial Day weekend.
I recorded this set with AKG large-diaphragm microphones set up near the soundboard, together with a soundboard feed prepared by Rob, one of the outstanding house engineers at the Knitting Factory. The sound quality is excellent. Enjoy! (And please feel free to let me know what the few songs I didn't know the titles of are)
Stream "Try Harder":
[audio:http://www.nyctaper.com/T7520TNV2011/09 Try Harder.mp3]
Stream "The Early 80s":
[audio:http://www.nyctaper.com/T7520TNV2011/13 Early 80s.mp3]
Direct download of MP3 files [HERE]
Download the Complete show in FLAC [HERE].
Times New Viking
2011-05-27
Knitting Factory
Brooklyn, NY USA
An acidjack master recording
Recorded and produced by acidjack for nyctaper.com
Equipment: AKG C 414 B-XLS (cardiod)>Sound Devices USBpre2 + Soundboard>>Edirol R-44 [Oade Concert Mod] (24/48)
Position: At soundboard, slightly ROC, mics at 7ft, PAS
Mastering: 2x24bit/48kHz WAV>Audacity (EQ audience source, mixdown, set fades, tracking, amplify and balance)>FLAC ( level 8 )
Tracks
01 Intro
02 It's A Culture
03 [unknown]
04 Don't Go to Liverpool
05 Busy Making Love & War
06 The Apt.
07 [banter]
08 Ever Falling In Love
09 Try Harder
10 No Room To Live
11 City On Drugs
12 [unknown]
13 The Early 80s
14 Devo & Wine
15 Telephone
16 [unknown]
17 Fuck Her Tears
18 Move to California
19 Ways To Go
20 New Vertical Dwellings
21 Teenage Lust!
22 [encore break]
23 My Head
24 [unknown]
If you download this recording from NYCTaper, we expect that you will PLEASE SUPPORT Times New Viking, visit their web site, and purchase Dancer Equired directly from Merge Records [HERE]