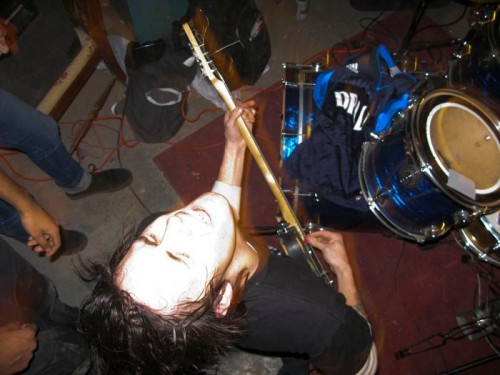 [Photo from Sleepies Facebook page]
Sleepies are a Brooklyn punk band that I have now had the pleasure of seeing twice, both times on bills shared with their friends Mr. Dream. This Northside Festival show found them in fine form, delivering their raw brand of punk rock to a crowd that was hungering for it. The band's sound takes several cues from the Sex Pistols, such as on the ragged "Summer Bummer." Sleepies already have some solid recorded output, including two songs on bandcamp that are produced by Mr. Dream's Nick Sylvester, and an LP available here. Check them out the next time you can!
Stream "Feelers":
[audio:http://www.nyctaper.com/S0616Sleepies2011/Feelers.mp3]
Direct download of MP3 files [HERE]
Download the Complete show in FLAC [HERE].
Follow acidjack on Twitter
Sleepies
2011-06-16
Northside Festival
Glasslands Gallery
Brooklyn, NY USA
An acidjack master recording
Recorded by acidjack and hi and lo
Produced by acidjack
Equipment: Schoeps Mk5 (omni)>EAA PSP2 + Soundboard >> Edirol R-44 [Oade Concert Mod] (24/48)
Position: Clamp to center post, about 7.5ft up, 30cm split
Mastering: 2x24bit/48kHz WAV>Audacity (mixdown, set fades, tracking, amplify and balance)>FLAC ( level 8 )
Tracks
01 Hypochondriac Blues
02 Summer Bummer
03 Combat
04 Cool Boy
05 Feelers
06 Temporary Setback
07 Sludge River Mouth
If you download this recording from NYCTaper, we expect that you will PLEASE SUPPORT Sleepies, like them on Facebook, and purchase their official releases from the links above.