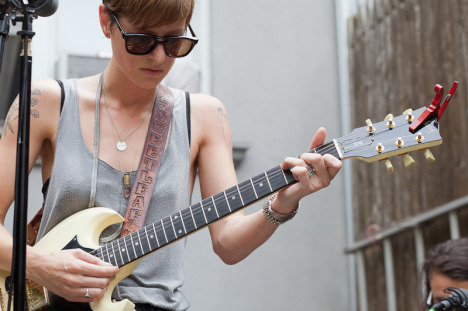 [photo by Dominic Mastrangelo]
Family Band are a salve to a nerve-frayed city where everybody climbs their steps two at a time. Indeed, the Brooklyn back yard where the latest Backyard Brunch Sessions was held could as well have been miles from the city; in the presence of Family Band, we were transfixed, and transported. The components of the band's sound are vocalist/guitarist Kim Krans, whose dusky, haunting vocals give the songs their emotional core; her husband, guitarist/pedal bassist Jonny Ollsin, and Scott Hirsch, on pedal steel. If you noticed that there was no drummer in that mix, that's right – the band relies on minimal percussion beyond a tambourine tapped lightly by Krans' feet, or Krans' handheld "golden eggs". The result gives their songs a hushed, intense and slightly mournful quality; Ollsin only half-jokingly called it "death prom". But maybe that's because New Yorkers associate a slowed pace with sadness; Krans and Ollsin write most of their songs up in the Catskills, where they met, and if you look at it that way, there is a pastoral quality to these songs as well. Given how scorching hot and humid it was outside in Brooklyn on this otherwise gorgeous day, many of us wished we were in those mountains, too (even if the show did come with brunch courtesy of Ollsin, bloody marys courtesy of McClure's Pickles, and Adirondack Creamery ice cream).
The band, who have toured recently with both Phosphorescent and Warpaint, are working on a new record that they hope to release later this year. Several of these songs are new ones that will appear on it, and if the rest of the record is as outstanding as songs like "Again" and "Forgive the Rest", it will be a great one. This show was also a first for Backyard Brunch shows in that it was the first fully electric performance that has been hosted, and that fit Family Band's sound perfectly, as it relies much more heavily on the electric pedal bass to carry the songs. If Krans, Ollsin and Hirsch were suffering from heat (which they had to be) it didn't show in a spot-on performance of these soothing, thought-provoking songs. For this half hour, at least, we could forget the rush, live in the moment, and enjoy.
I recorded this set with AKG large-diaphragm microphones miking the band's amplifiers, using Schoeps supercardiods as very high-end vocal mics. The results are outstanding. Enjoy!
Stream "Forgive the Rest":
[audio:http://www.nyctaper.com/F0723FamilyBand0211/04%20Forgive%20the%20Rest.mp3]
Stream "Hatred":
[audio:http://www.nyctaper.com/F0723FamilyBand0211/07%20Hatred.mp3]
Direct download of MP3 files [HERE]
Download the Complete show in FLAC [HERE].
Follow acidjack on Twitter
Family Band
2011-07-23
Backyard Brunch Sessions
Brooklyn, NY USA
An acidjack master recording
Recorded and produced for nyctaper.com by acidjack
Equipment: AKG C414 B-XLS (wide cardiod)>Sound Devices USBpre2 + Schoeps Mk41>CMC6 >> Edirol R-44 [Oade Concert Mod] (24/48)
Mastering: 4×24bit/48kHz WAV>Audition (effects, mixdown)>Audacity (set fades, EQ, tracking, amplify and balance)>FLAC ( level 8 )
Tracks
01 [Intro]
02 The Field
03 [banter]
04 Forgive the Rest
05 [tuning]
06 Fantasy
07 Hatred
08 [banter]
09 Again
If you download this recording from NYCTaper, we expect that you will PLEASE SUPPORT Family Band, visit their website, and purchase their current LP, Miller Path, directly from their bandcamp page.