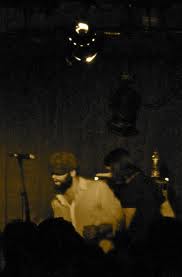 [Photos by acidjack]
Shows at Maxwell's are always a treat, in no small part because you get to spend quality time with a relatively "big" band in a venue much smaller than they normally play (we caught them at Bowery Ballroom not too long ago).  This show by The Black Angels – in town for a series of shows, including headlining the 4Knots Festival – fit that description.  Packing the 200-capacity room, the Angels blew out the room with their layered, reverb-heavy sound.  One could be forgiven for thinking they were a band out of Manchester or thereabouts rather than one of America's top music towns, Austin, Texas – their baggy sound shares as much commonality with mid-90s UK rock as it does with the "psychedelic rock" tag the band usually finds stuck to them.  This set proved that the band could rock like a huge band even in a small room (and without the killer light show they had last time), with the big rockers like "Black Grease" getting obvious love from the Friday night crowd.  Unsurprisingly, the set focused heavily on their 2010 record, Phosphene Dream, which has earned them proper critical acclaim.  I could hope to see them again at Maxwell's in the near future, but let's face it, this band is probably headed for Terminal 5 (and good for them).
hi and lo and I recorded this set with a four-mic mix from our usual spot in the venue.  The band's sound engineer would not permit us to utilize a soundboard feed, but the sound is nonetheless excellent.  Enjoy!
Stream "Entrance Song":
[audio:http://www.nyctaper.com/B0904BlackAngels2101/04 Entrance Song.mp3]
Stream "Better Off Alone":
[audio:http://www.nyctaper.com/B0904BlackAngels2101/10 Better Off Alone.mp3]
This recording is now available as FLAC or MP3 download at Archive.org [HERE].
Follow acidjack on Twitter
The Black Angels
2011-07-15
Maxwell's
Hoboken, NJ USA
Recorded for nyctaper.com by acidjack and hi and lo
Produced by acidjack
Equipment: DPA 4021>EAA PSP2 + Schoeps mk41>CMR>tinybox >> Tascam DR-680 (24/48)
Position: LOC, clamp to right corner of soundboard booth, mics at 7.5ft, 4021's PAS, mk41s DINa
Mastering: 2x24bit/48kHz WAV>Audacity (EQ DPA source, mixdown, set fades, EQ, smooth peaks, tracking, amplify and balance)>FLAC ( level 8 )
Tracks
01 You On the Run
02 Bad Vibrations
03 The Prodigal Sun
04 Entrance Song
05 Doves
06 [tuning/crowd]
07 Black Grease
08 The Haunting at 1300 McKinley
09 The Sniper
10 Better Off Alone
11 Telephone
12 Science Killer
13 Young Men Dead
14 [encore break]
15 Bloodhounds On My Trail
16 Phosphene Dream
If you email nyctaper for access to this recording, we expect that you will PLEASE SUPPORT The Black Angels, visit their website, purchase Phosphene Dream directly from the band at the front page of their website [HERE].