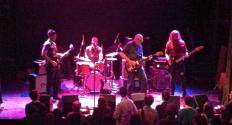 [iPhone photo by acidjack]
After I posted my recording of The Sea and Cake at Bowery Ballroom earlier this month, I received an unusual number of requests to also post my recording of the second opener, Brokeback. I can't say I was surprised. This band, a side project of Tortoise bassist Doug McCombs, released several records on Thrill Jockey in the late 90s and early 2000s, but has been in hibernation since 2008. This reconstituted 2011 version of the band is rehearsing new songs for a record, and playing shows around the country to work out the new material. In short, McCombs' guitar-based compositions are stunning stuff, at turns heavy and cinematic but also referencing some of Tortoise's more restrained, jazzy qualities. As these were all-new songs, I'm afraid I don't have a setlist at all, but I am deeply grateful to both Doug and Thrill Jockey giving the site permission to share this recording. This is an exciting preview of what is sure to be a great new release – keep an eye out for it! If you do happen to know any of these song titles, please help us fill them in.
I recorded this set from our usual location in the Bowery Ballroom with the DPA microphones and a very transparent Sound Devices preamp, just as I did with the Sea and Cake recording. This recording has a similarly crisp, dry quality and is an excellent listen. Enjoy!
Stream Track #2
[audio:http://www.nyctaper.com/B8011Brokeback0211/brokeback2011-11-08bowery_acidjack-02.mp3]
Direct download of MP3 files [HERE] | Direct Download of the FLAC files [HERE]
Follow acidjack on twitter
Note: All of the material on this site is offered with artist permission, free to fans, at our expense. The only thing we ask is that you download the material directly from this site, rather than re-posting the direct links or the files on other sites without our permission. Please respect our request.
Brokeback
2011-11-08
Bowery Ballroom
New York, NY USA
An acidjack master recording
Recorded and produced by acidjack for nyctaper.com
DPA 4021 (Slightly LOC, balcony, POS)>Sound Devices USBPre2>Sony PCM-M10 (24/44.1)>24bit/44.1kHz WAV>Audacity (set fades, tracking, amplify and balance)>FLAC ( level 8 )
Tracks [Please help with the setlist if you know any of these songs]
01
02
03
04 [banter]
05
06 [banter]
07
08
If you enjoyed this recording, PLEASE SUPPORT Brokeback by visiting their Thrill Jockey Records page, where you can find out more info about their forthcoming album and purchase their current releases, including their latest, Looks at the Bird.