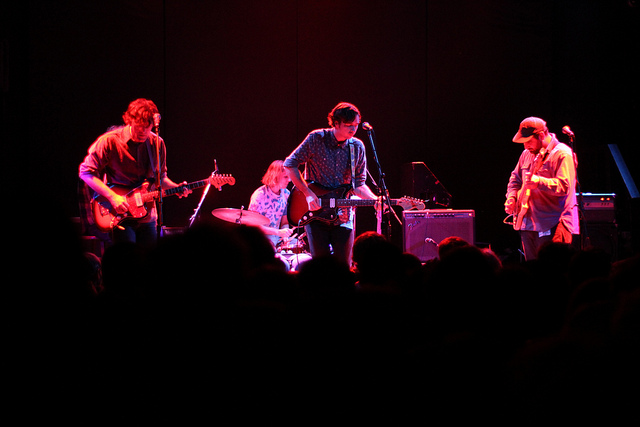 [Photo courtesy of Brian Stollery]
Another of the bands we make no secret of our love for is Real Estate.  Over the past three years that we have been following the band, we have watched the mature and develop sonically, culminating with their release of the new album Days on Domino Recording Company – their first for the tastemaking label. Days continues a run of good news for the band, who have continued to tour hard and earn accolades from critics and fans alike.  This show at Bowery Ballroom was the culmination of a two-month tour of Europe and the U.S., and it couldn't have made for a better sendoff into the Thanksgiving holiday the following day.  The respectful, excited crowd cheered through the longest set of Real Estate's that we have seen to date at 70 minutes, which covered almost every song on Days and their self-titled debut, plus their cover of Felt's "Sunlight Bathed the Golden Glow", a favorite on this tour.  In a market crowded with bands following others' lead, Real Estate have distinguished themselves with a laid-back, unique sound that always surprises.  They have almost singlehandedly come to define their hometown of Ridgewood, New Jersey where three of the band members grew up together, and which has served up great music from the band's fellow travelers and other unique talents like Julian Lynch and tour openers Big Troubles.  We closed out this show thankful not only for this great show, but for the band's continuing support and future prospects.
I recorded this set with a combination of a soundboard feed by Kenny, the house engineer at Bowery Ballroom, and Schoeps MK22 "open cardiod" microphones.  The results are excellent. Enjoy!
Special thanks to Domino Recording Company and Real Estate for their hospitality and for their continued support of NYCTaper.
Stream the full set:

Direct download of MP3 files [HERE]
Download the Complete show in FLAC [HERE].
Follow acidjack on Twitter
Note: All of the material on this site is offered with artist permission, free to fans, at our expense.  The only thing we ask is that you download the material directly from this site, rather than re-posting the direct links or the files on other sites without our permission.  Please respect our request.
Real Estate
2011-11-23
Bowery Ballroom
New York, NY USA
An acidjack master recording
Recorded and produced by acidjack for nyctaper.com
Soundboard + Schoeps MK22 (A-B, balcony, slightly LOC)>KCY>littlebox >> Edirol R-44 [Oade Concert Mod]>2x24bit/48kHz WAV>Audition (mix down, balance)>Audacity (set fades, tracking, amplify and balance, very light EQ, downsample)>FLAC ( level 8 )
Tracks
01 [intro]
02 Easy
03 Beach Comber
04 Green Aisles
05 Municipality
06 Younger Than Yesterday
07 [banter]
08 It's Real
09 Out of Tune
10 Wonder Years
11 Suburban Dogs
12 Kinder Blumen
13 Sunlight Bathed the Golden Glow [Felt]
14 Three Blocks
15 Fake Blues
16 All the Same
17 [encore break]
18 Suburban Beverage
If you enjoy this recording, we expect that you will PLEASE SUPPORT Real Estate, visit their website, and purchase Days from the Domino Records website [HERE].