[Photos by acidjack]
Ethan Miller, the founder and frontman of Howlin' Rain, knows his history.  Were it still the 1970s, the Humboldt County native and his band could have held their own with any of that era's West Coast greats.  These days, some of the era's dinosaurs may still roam, but among current acts, Howlin' Rain have the mantle almost to themselves.  The band wear their influences proudly; as Miller put it to Rolling Stone, "Everyone dabbles in the history books to get their licks… We use the same roads and highways. But the weather, lights, cars and people, they're never quite the same."  Miller previously honed his chops in the psychedelic rock outfit Comets on Fire, who released their last record in 2006, the same year that Miller launched Howlin' Rain's outstanding self-titled debut.  Howlin' Rain retains some of its predecessor's psychedelic influences, and penchant for stretched-out songs, but focuses more on a melodic, classic rock style that takes full advantage of Miller and the band's considerable talents.
This show at Brooklyn Bowl, the second of two local shows after a night at Mercury Lounge over in Manhattan, found the band and openers D. Charles Speer & the Helix playing material from the band's forthcoming record to a moderately-sized but fired-up crowd ignoring the league night going on in the bowling portion of the room.  This gave plenty of opportunities for bowling jokes, sure, but by mid-set, bowling had fallen by the wayside, and Howlin' Rain owned the room.  It's no wonder that The Russian Wilds, their new album that dropped today, has been receiving ecstatic reviews – while some other classic-sounding bands (ahem, a certain duo who shall remain unnamed) have taken to putting out records that go through the motions, The Russian Wilds is the sound of a band that is still hungry and still getting better.  They kicked off this show with "Self Made Man" from that record, an eight-minute rocker that says all you need to know about the scale and scope of Miller's ambitions.   Things only picked up from there, as the band displayed its versatility and its ability rock on songs like "Cherokee Werewolf", "Dark Side" and "I Want To See the Bright Lights Tonight".  The combination of the band's throwback sound and the rock n' bowl venue felt like a time machine of sorts – and that was a time machine I'd like to be in.
hi and lo and I recorded this set with two pairs of Schoeps microphones – MK5 cardiods and MK41 supercardiods – plus a soundboard feed provided by Brooklyn Bowl.  Thanks to Peter Costello for his hospitality.  Enjoy the recording!
Download MP3 and FLAC via the Live Music Archive.

Follow acidjack on twitter
Note: All of the material on this site is offered with artist permission, free to fans, at our expense. The only thing we ask is that you download the material directly from this site, rather than re-posting the direct links or the files on other sites without our permission. Please respect our request.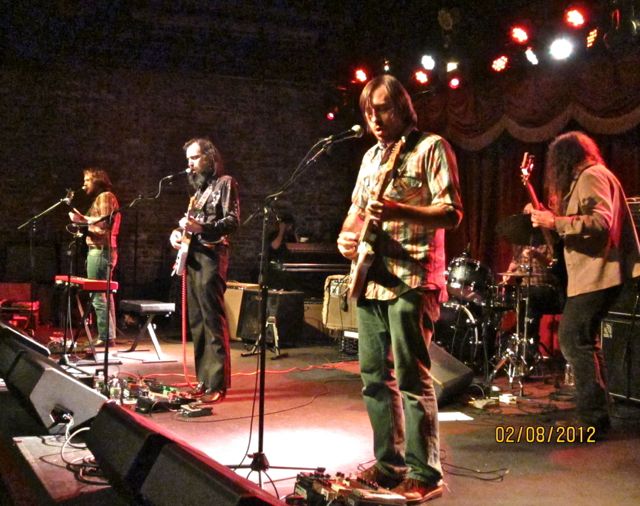 Howlin' Rain
2012-02-08
Brooklyn Bowl
Brooklyn, NY USA
Exclusive download at nyctaper.com
Recorded by hi and lo and acidjack
Produced by acidjack
Soundboard + Schoeps MK41>KCY>littlebox + Schoeps MK5c>NBox cables>PFA>PSP2 >> Tascam DR-680 (MK41 and SBD) + Edirol R-44 [Oade Concert Mod] (MK5)>6x24bit/48kHz WAV>Audacity (clock sync channels, mixdown, tracking, set fades, light EQ, amplify and balance)>FLAC ( level 8 )
Tracks [Total Time approx 78min]
01 intro>Self Made Man
02 Phantom In the Valley
03 [banter]
04 Cherokee Werewolf
05 [banter]
06 Can't Satisfy Me Now
07 [banter]
08 Strange Thunder
09 Dark Side
10 Dancers At the End of Time
11 Calling Lightning Pt. 2
12 [encore break]
13 I Want to See The Bright Lights Tonight
14 Roll On The Rusted Days
If you enjoyed this recording, PLEASE SUPPORT Howlin' Rain, visit their website, like them on Facebook, and purchase The Russian Wilds directly from their site or from your favorite retailer.