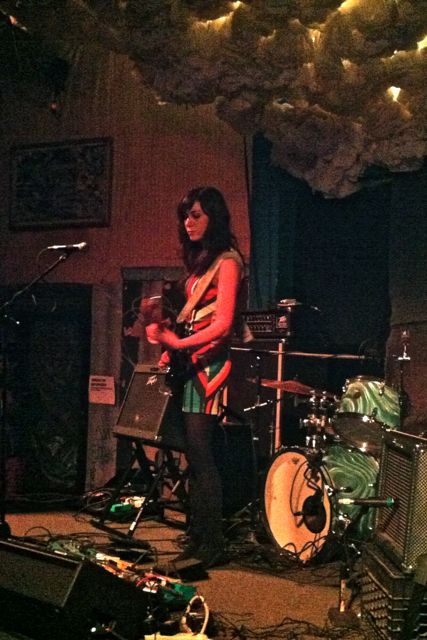 [Photos by acidjack]
I have been a fan of the multi-talented guitarist and filmmaker Sarah Lipstate, aka Noveller, since seeing her open a slam-packed Bear In Heaven show at Glasslands back in 2010. Shortly thereafter, she released the EP Desert Fires, which at the time was the high watermark of her finely textured guitar compositions, especially the song "Three Windows Facing Three Doors". Being a filmmaker, Lipstate's songs have an abstract, cinematic quality to them; Lipstate carries you with her on her carefully constructed waves of sound. Although she was formerly with the bands Parts & Labor and Cold Cave, Lipstate is one of the few musicians who I would venture has more true potential on her own; her compositions feel complete without the trappings of a full band.
With her new eight-song LP Glacial Glow, Lipstate has 0nce again delivered compositions of layered, subtle beauty. She played two of those compositions – "Ends" and "Entering", the bookends to Glacial Glow, on this night. Two new songs, "Cyanne" and "Darkheart", joined "Starve" from her split LP with unFact (David Wm. Sims of the Jesus Lizard), to round out the set. Lipstate's work continues to be absolutely mesmerizing – I can't wait to hear what she comes up with next.
I recorded this set in the same manner as the Lotus Plaza and Disappears sets, and the sound is outstanding.  Enjoy!
Stream "Cyanne"
[audio:http://www.nyctaper.com/N9041Noveller2012/01 Cyanne.mp3]
Stream "Ends"
[audio:http://www.nyctaper.com/N9041Noveller2012/02 Ends.mp3]
Direct download of MP3 files [HERE] |  Direct Download location of the FLAC files [HERE]
Follow acidjack on twitter
Note: All of the material on this site is offered with artist permission, free to fans, at our expense.  The only thing we ask is that you download the material directly from this site, rather than re-posting the direct links or the files on other sites without our permission. Please respect our request.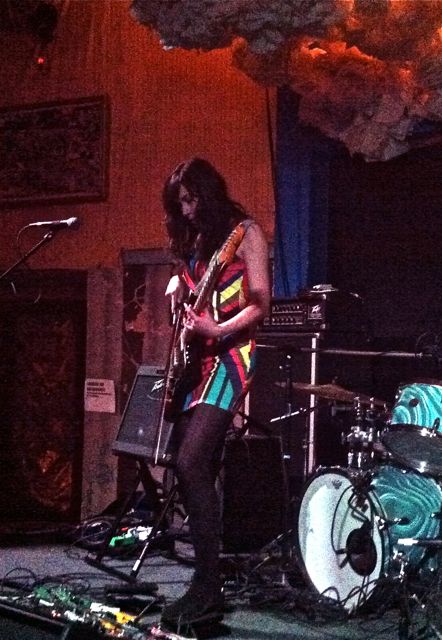 Noveller
2012-04-19
Glasslands
Brooklyn, NY USA
Exclusive download hosted at NYCTaper.com
Recorded by acidjack and nyctaper
Produced by acidjack
Schoeps MK5c (DFC, STC22g, 8ft)>KCY>Z-PFA>Sound Devices USBPre2 + Soundboard >> Edirol R-44 [Oade Concert Mod]>2x24bit/48kHz WAV>Audacity 2.0 (align, mixdown, set fades, tracking, amplify and balance, downsample)>FLAC ( level 8 )
Tracks
01 Cyanne
02 Ends
03 Entering
04 Darkheart
05 Starve
If you enjoyed this recording, PLEASE SUPPORT Noveller, visit her website, and buy her records from her store there.