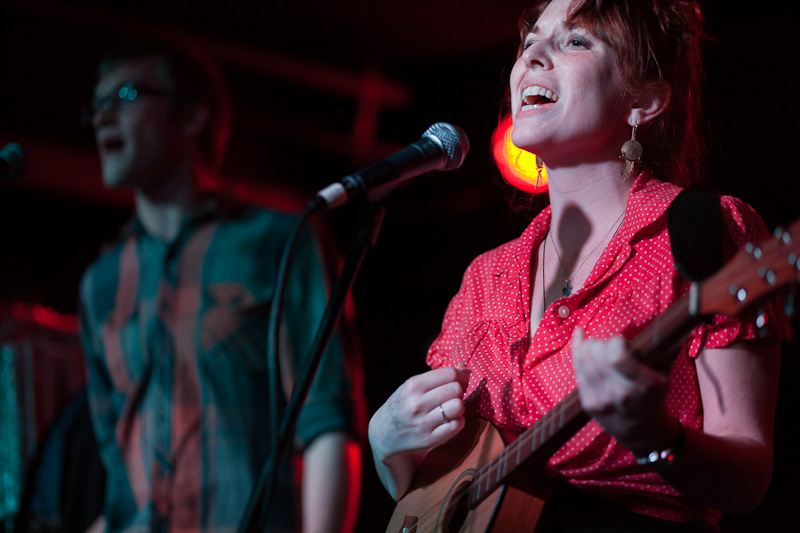 [Photos by Dominick Mastrangelo]
When I first head singer-songwriter Brittain Ashford, I knew right away that she was something special. With a voice that is sweet, delicate and whimsical, Ashford draws you in and keeps you in her headspace, with clear, confessional lyrics that give you that proverbial window into her soul. Prairie Empire is Ashford's first full-band project, and musically, it is a successful one.  With a full complement of talented players with a range of instruments at their disposal that includes strings, cello, violin, viola, drums, sleigh bells, dulcimer and trumpet, the sum of Prairie Empire is far greater than its parts, and Ashford's judicious arrangements give grace and power to her songs without cluttering them.
This show at Mercury Lounge celebrated the release of the band's debut LP on Trailer Fire Records, and found Ashford and her bandmates delivering beautifully-realized live renditions of the majority of the record. The band's LP is one of the most well-mixed and recorded albums I have heard in some time (the vinyl pressing is of exceptionally high quality), with a dry, dynamic mix, and I was thrilled to hear how well the band brought the material across live.  Along with "Give," the studio version of which has been streaming on the band's website for awhile, I was particularly partial to "Under Hum" and "Where You Are", with its plaintive, emotionally wrenching chorus. We are thrilled to have had part of presenting this show, and wish the band the best of luck on their current tour.  If you are in one of the areas of the Midwest or East Coast where the band is touring, you owe it to yourself to go and see them.
I recorded this set with Schoeps MK5 microphones from the center of the room by the board, along with a stereo soundboard feed. Other than the occasional sound of the door between the show area and the bar  opening and closing, and some very light DI distortion on a couple of songs, the recording is flawless, and an outstanding representation of the band's live sound. Enjoy!
Special thanks to Brittain Ashford and Prairie Empire for their invitation to us to present this show and to record it.
Stream "Under Hum"
[audio:http://www.nyctaper.com/P6001PrairieEmpire2012/05 Under Hum.mp3]
Stream "Where You Are"
[audio:http://www.nyctaper.com/P6001PrairieEmpire2012/08 Where You Are.mp3]
Direct download of MP3 files [HERE] | Direct Download of the FLAC files [HERE]
Follow acidjack on twitter
Note: All of the material on this site is offered with artist permission, free to fans, at our expense. The only thing we ask is that you download the material directly from this site, rather than re-posting the direct links or the files on other sites without our permission.  Please respect our request.
Prairie Empire
2012-06-10
Mercury Lounge
New York, NY USA
Exclusive download hosted at nyctaper.com
Recorded and produced by acidjack
Schoeps MK5(cardiod, DFC, POS, 7.5ft)>CMC6>Sound Devices USBPre2 + Soundboard >> Edirol R-44 [Oade Concert Mod]>2x24bit/48kHz WAV>Adobe Audition CS 5.5 (mixdown)>Izotope Ozone 5 (light EQ)>Audacity (set fades, tracking, amplify and balance)>FLAC ( level 8 )
Tracks
01 [intro]
02 Tenfold
03 Snow
04 Winter Came
05 Under Hum
06 Give
07 [banter]
08 Where You Are
09 Pieces, Parts
If you enjoyed this recording, PLEASE SUPPORT Prairie Empire, visit their website, and purchase their record from Trailer Fire Records [HERE] or on iTunes.