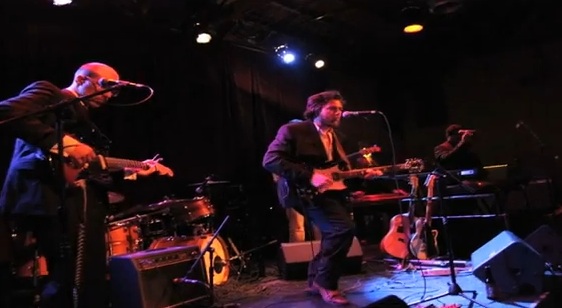 [still from this video]
I got to around 100 concerts a year, and at those concerts, I probably see upwards of 300 bands or more. A lot of times I am less than satisfied, but I keep going, and going, and going – chasing the perfect sound. And every once awhile – just about often enough – I come a band that is jaw-droppingly great, that raises the bar for their own art form.
Christopher Porterfield of Field Report was only a few bars into "I Am Not Waiting Anymore" at this Mercury Lounge show when I knew this was one of those bands. Although it was a hot summer day, Porterfield and his Milwaukee-based bandmates took the stage in dark-colored suits, and in some cases, ties, perhaps with an eye toward the grander days of Nashville, perhaps as if to say with their clothing what was already obvious – these are serious musicians. Portfield's rough-hewn vocals and the band's country tinge will draw comparisons to bands like Partisan Records labelmates Deer Tick or other roots/Americana bands, but if you want to see where their real magic lies, listen more carefully or get out the lyric sheet (you can read all of Porterfield's lyrics on their website). Porterfield brings an ample vocabulary to his verses, and an ear for the satisfying grit in individual words and passages.  On paper, many of the band's lyrics don't scan like song lyrics at all, like this beginning to "Route 18":
Elizabeth said last night the lake roared like the ocean; I was landlocked under the orange-white solstice moon. Imagine: imagining a place meant to conjure up another. Three degrees of hometown disconnect in my unborn daughter's room.
or this opening to "Circle Drive"
leftside sidewalk hospital circle drive walked this way twice a day, back the other way two times they got you wrapped up in guilt like an aftermarket cancer quilt and I don't know the names of the people on the patches and they ground you down to calcium and road salt and pressed you into piles of pills they cut with ashes
The band's delivery is every bit as confident as Porterfield's well-illuminated songwriting, which likely played a role in their rapid signing to Partisan (their full-length LP comes out on September 11) as well as supporting slots this summer for Counting Crows and Emmylou Harris. This set covered material from the band's current preview EP as well as the new record, and there wasn't a lackluster number among them.  My favorite was probably the harrowing "Circle Drive", about endurance in the face of pain, but the band's initial push into the mainstream will probably be built on more uptempo numbers like "The Year Of I Got You Alone", and "Chico the American". One thing these songs are not is anthemic or upbeat; these are songs for deep contemplation, maybe a slug of whiskey or two.  Every press missive about this band will mention Porterfield's prior relationship with Bon Iver (in precursor band DeYarmond Edison), but Field Report don't need the boldface name hype.  This Mercury crowd must have felt the same way I was feeling; even on a Saturday night, the crowd remained whisper quiet during each number, to the point that Porterfield commented on how intently we listened. How couldn't we?  It's hard to tear yourself away from something so authentic, vital and honest.
I recorded this set with my usual combination of Schoeps MK41 microphones and a soundboard feed from Kevin, the head engineer at Mercury Lounge.  The house mix, even by Mercury Lounge's high standards, was flawless, and the respectful crowd only makes the recording sound even better.  Enjoy!
Field Report will continue touring the U.S. with Counting Crows into the month of August.  Thanks to Partisan Records for inviting us to the show.
Stream "Chico the American"
[audio:http://www.nyctaper.com/F1270FieldReport0212/05 Chico the American.mp3]
Stream "Fergus Falls"
[audio:http://www.nyctaper.com/F1270FieldReport0212/11 Fergus Falls.mp3]
Direct download of MP3 files [HERE] | Direct Download of the FLAC files [HERE]
Follow acidjack on twitter
Note: All of the material on this site is offered with artist permission, free to fans, at our expense.  The only thing we ask is that you download the material directly from this site, rather than re-posting the direct links or the files on other sites without our permission.  Please respect our request.
Field Report
2012-07-21
Mercury Lounge
New York, NY USA
Exclusive download hosted at nyctaper.com
Recorded and produced by acidjack
Soundboard + Schoeps MK41>CMC6>Sound Devices USBPre2 >> Edirol R-44 [OCM]>2x24bit/48kHz WAV>Audacity (mixdown)>Izotope Ozone 5 (EQ, exciter, limiter)>Audacity (set fades, tracking, amplify, balance, downsample)>FLAC ( level 8 )
Tracks
01 I Am Not Waiting Anymore
02 The Year of I Got You Alone
03 [tuning]
04 Evergreen
05 Chico the American
06 Taking Alcatraz
07 Incommunicado
08 [banter]
09 Circle Drive
10 [banter]
11 Fergus Falls
12 Route 18
If you enjoyed this recording, PLEASE SUPPORT Field Report, visit their website, buy their 3-song EP on bandcamp, and like them on Facebook.