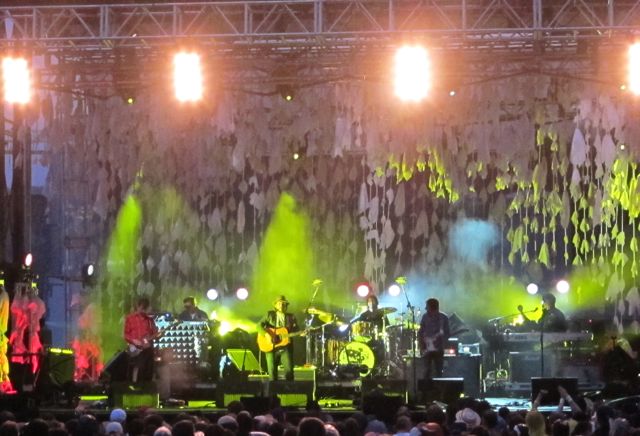 [Photos by acidjack and Johnny]
After catching Wilco's excellent show at Terminal 5 earlier in the week, to say that we were excited about trekking up to the lovely Brewery Ommegang in Cooperstown to see them again would be a gross understatement.  It's becoming a bit of a tradition for the entire NYCtaper crew to make it to at least one outdoor Wilco concert a year and we decided to expand our range outside of the city after the superb Central Park gigs last September (HERE and HERE).  The tradition also appears to bring rain with it, but judging by the fabulous time both the band and attendees were having you wouldn't have guessed a single drop fell that night.  No doubt the exceptional Belgian-style beers the brewery serves as well as their hospitality and the gorgeous upstate surroundings bolstered our good spirits.  It became evident early on that Jeff Tweedy and company were as impressed with the fans as we were with them, citing a checklist of criteria that makes for a great crowd at one point.  Along with regular favorites "Heavy Metal Drummer" and "Impossible Germany" (which is always an opportunity for the impressive Nels Cline to shine on guitar), the troupe shrugged off the wet weather with an infrequent showing of "Either Way", and brought the rare "Laminated Cat" and "What's the World Got in Store" back into rotation.  Topping the evening with two encores, including a triple-shot of songs from 'Being There', it's nights like these that keep us eager for the next show and make recording them so enjoyable.
The rain aside, between the four of us we ran no less than six pairs of microphones and were able to set up very close to center right in front of the soundboard.  Having so many choices at hand, we ultimately decided to use acidjack's Schoeps and Johnny's Milabs for our mix.  With Wilco's FOH engineer extraordinaire Stan Doty at the helm, the sound was exemplary and, in light of the weather conditions, our recording is really quite excellent.  We hope you like what you hear as much as we did.  Enjoy!
Stream "I Might":
[audio:http://www.nyctaper.com/W2238Wilco2297/WilcoMight.mp3]
Stream "Handshake Drugs":
[audio:http://www.nyctaper.com/W2238Wilco2297/Wilco_-_Handshake_Drugs.mp3]
Direct download of the complete show in MP3 [HERE]
Direct download of the complete show in FLAC [HERE]

If either of the links are no longer working, email nyctaper with a request for the download location of the files.

Follow Johnny Fried Chicken Boy on Twitter
Note: All of the material on this site is offered with artist permission, free to fans, at our expense.  The only thing we ask is that you download the material directly from this site, rather than re-posting the direct links or the files on other sites without our permission.  Please respect our request.
Wilco
Saturday, July 28, 2012
Brewery Ommegang
Cooperstown, NY, USA
(opener: Lee Ranaldo)
Source: AUD > Milab VM-44 Links (cardioid) + Schoeps MK22's [> KC5 > CMC6 > Sound Devices USBPre2] >> Edirol R-44 (WAV @ 24-bit/48kHz)
Lineage: R-44 > PC > Adobe Audition (mixdown, downsample, dither, tracking) > WAV (16-bit/44.1kHz) > TLH (check/fix SBE's, FLAC conversion) > FLAC ( level 8 )
Recorded by: acidjack, hi and lo, nyctaper and Johnny Fried Chicken Boy
Produced by: Johnny Fried Chicken Boy
SETLIST:
[Total time: 2:07:51]
01. Dawned on Me
02. War on War
03. I Might
04. Sunken Treasure
05. Either Way
06. Hummingbird
07. Impossible Germany
08. Born Alone
09. Laminated Cat
10. [banter 1]
11. What's the World Got in Store
12. Handshake Drugs
13. Whole Love
14. [banter 2]
15. Kamera
16. Box Full of Letters
17. I'm Always in Love
18. [banter 3]
19. Heavy Metal Drummer
20. I'm the Man Who Loves You
21. A Shot in the Arm
22. [1st encore break]
23. Poor Places
24. Art of Almost
25. Standing O
26. [2nd encore break / banter]
27. Airline to Heaven
28. [banter 4]
29. Hate It Here
30. Can't Stand It
31. Red-Eyed and Blue
32. I Got You (At the End of the Century)
33. Outtasite (Outta Mind)
If you download this recording, we expect that you will PLEASE SUPPORT Wilco, visit their website, visit their Facebook and MySpace pages, and purchase their official releases and merchandise [HERE].