[photos by acidjack]
For fans of heavy, psychedelic, experimental and improvisational rock, the current Brooklyn and NYC scene is an embarrassment of riches. To an illustrious list that includes White Hills, The Psychic Paramount, Oneida, Naam and many others (many of whom have been featured on this site), make sure to include the Brooklyn trio Eidetic Seeing in the canon. I first caught the band in their infancy, when they opened for White Hills at Cake Shop back in 2009. At the time, I was impressed, but clearly the band was just getting started. After releasing an EP that year, they laid down the until-recently vinyl only Drink the Sunin 2011. The absence of the record from the digital realm may have kept Eidetic Seeing a bit under the radar (it's now available on their bandcamp page, and the vinyl is still featured at local record stores like Earwax and Academy), but they aren't likely to stay that way for long.
This show at Public Assembly turned out to be an extra-special performance, as the band ran freeform through forty-five minutes of all-new material that they hope to lay down in the studio in the coming months. Several of these songs were newly-rehearsed, giving them a raw, exciting quality and giving the band members a chance to expand upon their ideas in real time. Mostly devoid of lyrics, at least for now, new songs like "Untitler" expand upon and extend the band's palette, adding free jazz flourishes to guitarist Sean Forleza, drummer Paul Feitzinger, and bassist Danilo Randjic-Coleman's dense, spaced-out stew. The songs flowed seamlessly from one to the next, with the highlight coming with the mid-set sequence of "Ashplant Blues" and "White Flight", which gave Forleza a few vocal turns. Keep an eye on the band's website for future shows in Brooklyn and beyond. These guys will melt your face if given the chance.
I recorded this set with Schoeps MK5 microphones in an optimal spot in the venue, coupled with a light amount of soundboard feed provided by the Public Assembly engineer, Theo. The house mix and room sound in the Public Assembly was outstanding on this night, and it is reflected in this recording. Enjoy!
Stream "Ashplant Blues"
[audio:http://www.nyctaper.com/E0078EideticSeeing0212/04 Ashplant Blues.mp3]
Stream "White Flight"
[audio:http://www.nyctaper.com/E0078EideticSeeing0212/05 White Flight.mp3]
Direct download of MP3 files [HERE] | Direct Download of the FLAC files [HERE]
Note: All of the material on this site is offered with artist permission, free to fans, at our expense. The only thing we ask is that you download the material directly from this site, rather than re-posting the direct links or the files on other sites without our permission. Please respect our request.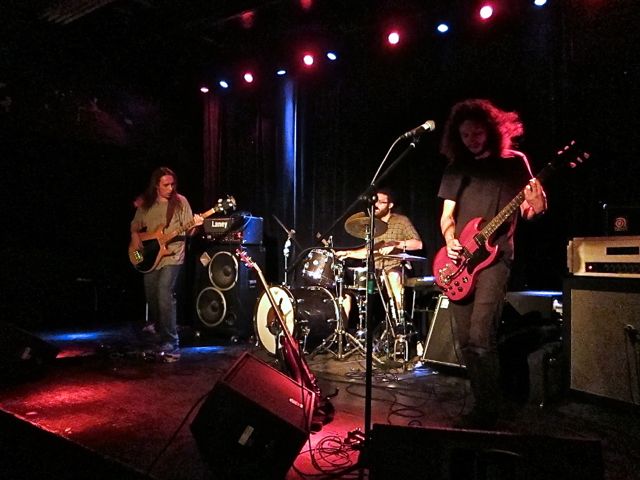 Eidetic Seeing
2012-08-09
Public Assembly
Brooklyn, NY USA
Exclusive download hosted at nyctaper.com
Recorded and produced by acidjack
Schoeps MK5 (cardiod, PAS)>KCY>Z-PFA>Sound Devices USBPre2 + Soundboard >> Edirol R-44 [OCM]>Adobe Audition CS 5.5 (mixdown, compress SBD, balance)>Izotope Ozone 5 (light EQ and exciter)>Adobe Audition CS 5.5 (amplify)>Audacity (tracking, set fades, amplify and balance, downsample)>FLAC ( level 8 )
Tracks
01 [crowd/intro]
02 Untitler
03 [interlude]
04 Ashplant Blues
05 White Flight
06 A Snake Whose Years Are Long
07 Frauleuse
If you enjoyed this recording, PLEASE SUPPORT Eidetic Seeing, visit their website, and purchase Drink the Sun in digital or vinyl format from their bandcamp page.