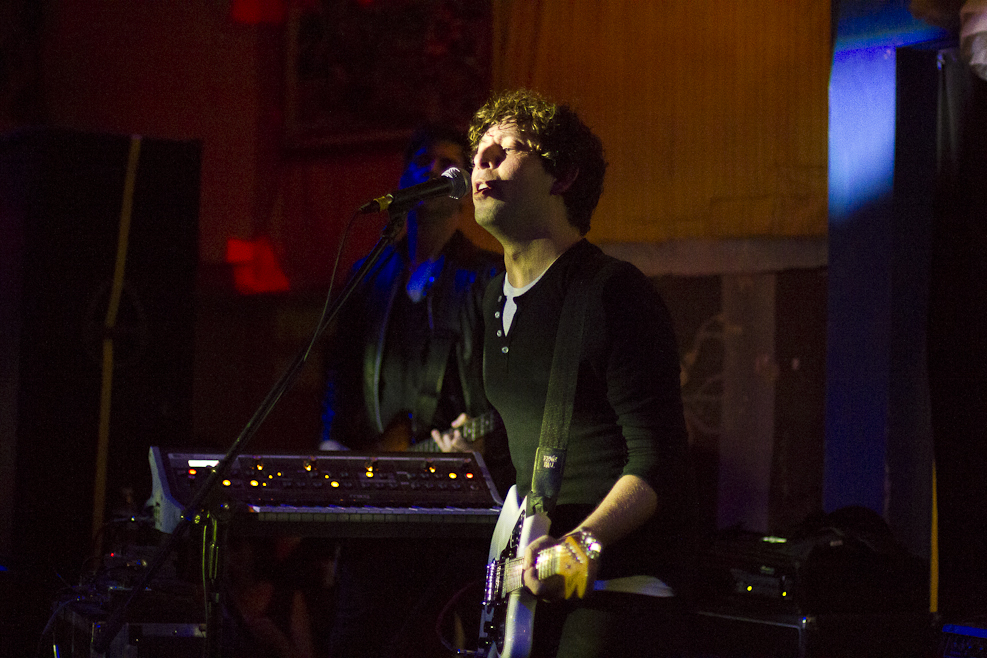 [Photos courtesy of Eric Groom Photography]
The tastemaking label Captured Tracks has developed a unique ability to find bedroom recording projects and other oddball solo visions that are capable of being something more. The Bay Area band The Soft Moon was originally such a project from frontman/guitarist Luis Vasquez, and that was the genesis of the band's breakout debut LP, The Soft Moon. Seeing the band live at Glasslands this past Thursday, with the benefit of hindsight, it's hard to see how Vasquez could not have pictured those songs as vital live tunes. This was easily among the most slam-packed, sold-out Glasslands shows I have been to, and the energy of this night was unmistakable; music fans lined the entire Kent Ave. block of Williamsburg that featured three completely full venues. With driving synths and an electronically-augmented backbeat, these darkwave revivalists had little difficulty getting this crowd dancing. The twelve-song set covered a solid portion of the Soft Moon material, as well as some numbers from the band's 2011 Total Decay EP and at least one track, "Die Life", that will appear on their forthcoming album, Zeros, which drops in a little over a month.
Vasquez was enjoying the attention and lighthearted between songs. After only five songs he  said "we've got one more song" – followed by groans of disappointment from the sardines in the audience.
"I'm just fucking with you" he continued, before launching into a fiery version of the gothic midtempo number "Total Decay" – a relatively mellow midpoint to a set that stayed on fire for the remaining six songs. What began with one guy in his bedroom is now quite clearly a band to be reckoned with. Best of all, New Yorkers can get a second shot at seeing The Soft Moon live when they return to Bowery Ballroom on October 30 to celebrate the release of Zeros.  Tickets are on sale now.
I recorded this set with a pair of Audio Technica 3031 microphones right at the stage lip, plus a soundboard feed from the night's engineer, Chris. This recording method gives you the feeling of standing right at the front of the crowd, and you can hear some semi-funny comments from audience members in between songs as a result. Enjoy!
Stream "Die Life"

Direct download of MP3 files [HERE] | Direct download of FLAC files [HERE]
If the FLAC link is no longer working, email nyctaper for the FLAC files
Follow acidjack on twitter
Note: All of the material on this site is offered with artist permission, free to fans, at our expense. The only thing we ask is that you download the material directly from this site, rather than re-posting the direct links or the files on other sites without our permission. Please respect our request.
The Soft Moon
2012-09-20
Glasslands
Brooklyn, NY USA
Exclusive download hosted at nyctaper.com
Recorded and produced by acidjack
Soundboard + Audio Technica 3031 (onstage, ORTF)>Edirol R-44 [Oade Concert Mod]>2x24bit/48kHz WAV>Adobe Audition CS 5.5 (mixdown)>Izotope Ozone 5 (tape effects and EQ)>Audacity (set fades, tracking, amplify, balance, downsample)>FLAC ( level 8 )
Tracks
01 We Are We
02 Circles
03 Dead Love
04 Into the Depths
05 [tuning]
06 Breathe the Fire
07 Total Decay
08 Alive
09 Die Life
10 Insides
11 Parallels
12 [non-encore break]
13 When It's Over
14 Tiny Spiders
If you enjoyed this recording, PLEASE SUPPORT The Soft Moon, like them on Facebook, and purchase their releases, including Zeros when it is available October 30, from Captured Tracks [HERE]