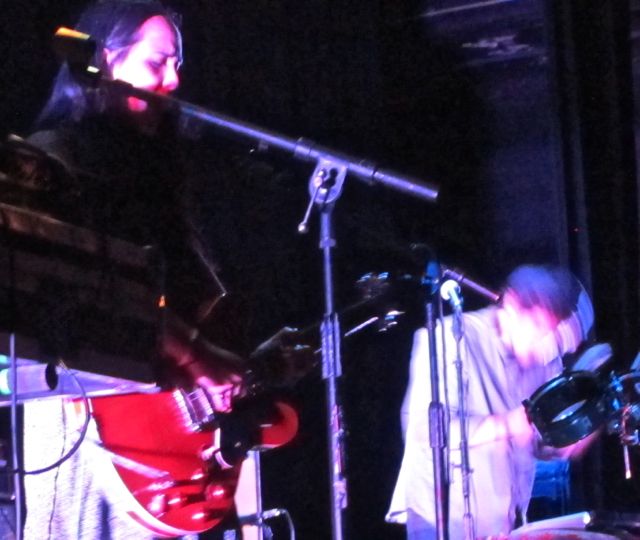 [not very good photos by acidjack]
Young Magic's grab-bag of influences – West African rhythms, shoegaze textures, hip hop beats, a smattering of witch house – makes them an almost-impossibly current-sounding band, whose sound is as easy to locate in the modern present as their auditorium-shaking bass was in your throat. The band kicked off the opening night of the Hopscotch Music Festival at Raleigh, NC's cavernous Memorial Auditorium, and rose to the occasion despite being one of the smaller acts, personnel-wise, to take the festival's biggest stage. The opening chants and dense sonics of "You With Air" set the tone for a set that made it clear how the Brooklyn (via Australia and Indonesia) act had gotten that billing in such short time.  This is the sort of dance-ish music that you probably don't actually dance to; like Tricky and Massive Attack before them, Young Magic's game is to hypnotize its audiences with their dark atmospherics. The band included a couple of new numbers not on their 2012 Carpark Records debut, Melt, which could well see some action on best-of lists at year-end.
I recorded this set with Schoeps MK41 microphones from the ideal location in the venue. The venue's rather boomy acoustics are reflected in the recording, though with some additional editing, I think it is a solid capture. Enjoy!
Stream "Night In the Ocean"

Direct download of MP3 files [HERE] | Direct download of FLAC files [HERE]
If the FLAC link is no longer working, email nyctaper for the FLAC files
Check out all of NYCTaper's Hopscotch Festival recordings
Follow acidjack on twitter
Note: All of the material on this site is offered with artist permission, free to fans, at our expense. The only thing we ask is that you download the material directly from this site, rather than re-posting the direct links or the files on other sites without our permission. Please respect our request.
Young Magic
2012-09-06
Hopscotch Festival
Memorial Auditorium
Raleigh, NC USA
Exclusive download hosted at nyctaper.com
Recorded and produced by acidjack
Schoeps MK41>KCY>Z-PFA>Sound Devices USBPre2>Edirol R-44 [OCM]>24bit/48kHz WAV>Izotope Ozone 5 (EQ)>Audacity (set fades, tracking, amplify, balance, downsample)>FLAC (level 8 )
Tracks
01 intro>You With Air
02 The Dancer
03 Sparkly
04 Slip Time
05 [unknown]
06 [unknown2]
07 Night In the Ocean
If you enjoyed this recording, PLEASE SUPPORT Young Magic, like them on Facebook, and buy Melt from Carpark Records [HERE]