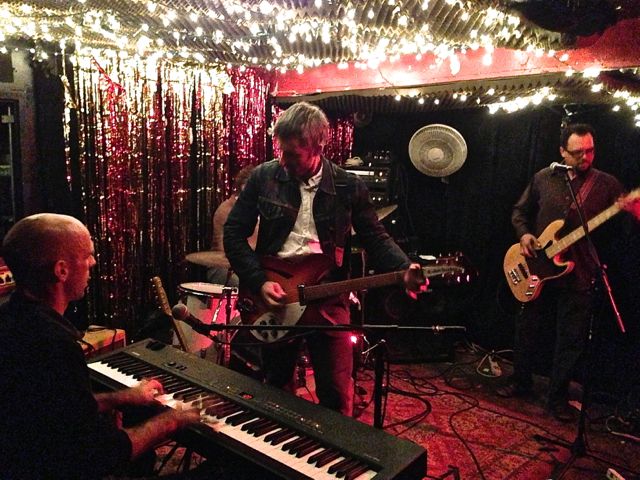 [Photos by acidjack]
Hans Chew plays a brand of old-time, piano-driven rock n' roll you may not have even realized you were nostalgic for. As the piano man for Brooklyn country-psych stalwarts D. Charles Speer & the Helix, Chew proved himself as a composer and vocalist in his own right on his debut album Tennessee & Other Stories.  Imbued with a honky-tonk barroom quality, Chew's piano playing is even more central to his solo project than it is to his work with Speer, and that's all to the good. As a Southerner now living in New York, Chew's work remains rooted down south, and incorporates elements of country, bluegrass and Southern boogie. Like D. Charles Speer, Chew isn't simply a revival act, but a modern performer who has taken a classic, regionally-rooted sound and imbued it with new ideas and new vitality.
We were thrilled to have a chance to invite Chew to play our fifth annual unofficial CMJ day show at Cake Shop, and Chew and the band delivered in a big way, with a set of almost all-new material that continued on Tennessee's promise. "Strange Love" shone among the new numbers, with its funky guitar groove and catchy refrain. "Junker's Blues", which closed the set, was the kind of timeless-but-new number we expect from Chew, and it ended his part of the afternoon on a high note. We would have loved to have Chew at our show in any capacity, but getting this rare preview of new material made it an even bigger honor.
I recorded this set with house engineer Justin's mix combined with Schoeps MK5 microphones in the cardiod setting mounted on the ceiling just in front of the stage lip and spread wide. The results are outstanding. Enjoy!
Stream "Strange Love"

Direct download of MP3 files [HERE] | Direct download of FLAC files [HERE]
If the FLAC link is no longer working, email nyctaper for the FLAC files
Follow acidjack on twitter
Note: All of the material on this site is offered with artist permission, free to fans, at our expense. The only thing we ask is that you download the material directly from this site, rather than re-posting the direct links or the files on other sites without our permission. Please respect our request.
Hans Chew
2012-10-18
NYCTaper CMJ Day Show
Cake Shop
New York, NY USA
Exclusive download hosted at nyctaper.com
Recorded and produced by acidjack
Soundboard (engineer: Justin) + Schoeps MK5>KCY>Z-PFA>>Edirol R-44 [OCM]>Adobe Audition CS 5.5 (mix down, fades, align, adjust levels)>Izotope Ozone 5 (EQ, thicken, exciter)>Audacity 3.0 (tracking, amplify, balance, light DR compression, downsample)>FLAC ( level 8 )
Tracks
01 [intro]
02 Chango>
03 Tom Hughes Town
04 Strange Love
05 Magnet Moon
06 [banter]
07 Junker's Blues
If you enjoyed this recording, PLEASE SUPPORT Hans Chew, visit his website, and buy Tennessee and Other Stories from Three Lobed/Divide By Zero Records [HERE]