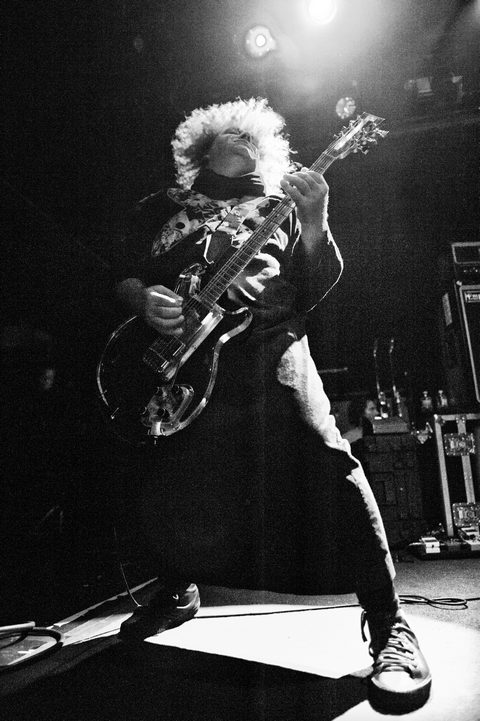 [Photos by Dana "Distortion" Yavin and used with permission. Originally hosted at BrooklynVegan]
The "Lite" version of the Melvins (one drummer instead of two, no electric bass) is still a hell of a lot heavier than most bands on their best day, and this show at Music Hall of Williamsburg continued that trend. The band is on a quixotic mission to play 50 states in 51 days (possibly setting a world record), and this Brooklyn show found the band a little over halfway through their quest. If they were burned out from the relentless schedule, they didn't show it; the band came out charging, in good spirits, and as ear-bustingly loud as ever. Even without their usual dual-drummer setup, one Dale Crover can provide a whole lot of percussion, and Buzz Osborne's guitars and Trevor Dunn's upright bass similarly held their own. Dunn's rocking out with the upright bass was a special thrill, as he manhandled the big bass like a smaller electric, playing on his back, twirling it over his head, and doing just about everything but smash it to bits all over the stage.  This set included some crowd pleasers from the band's best-known album, Houdini  ("Hooch", "Set Me Straight" and "Sky Pup"), but as usual, dug deep into the back catalog, kicking off with "Eye Flys" from the band's first album, Gluey Porch Treatments. One highlight at several stops on this tour has been the "Inner Ear Rupture" and "Shevil" combo, and that closed the night's set in special style, with the song stretching to a full 12 minutes. The band has a ways to go before they get the record, and we're pulling for them!
Johnny Fried Chicken Boy and I were in the balcony of the venue in our usual spot for this set.  We used two pairs of mics that made roughly equal recordings, so much so that there didn't seem to be much point combining the two sources.  This is my Schoeps MK41 supercardiod microphones in tightly-spaced configuration to provide as much direct sound as possible. The results are comparable to the site's other excellent Melvins recordings from Music Hall, which you can locate by clicking the "Melvins" tag below. Enjoy!
Stream "Hooch"


Direct download of MP3 files [HERE] | Direct download of FLAC files [HERE]
If the FLAC link is no longer working, email nyctaper for the FLAC files
Follow acidjack on twitter
Note: All of the material on this site is offered with artist permission, free to fans, at our expense. The only thing we ask is that you download the material directly from this site, rather than re-posting the direct links or the files on other sites without our permission. Please respect our request.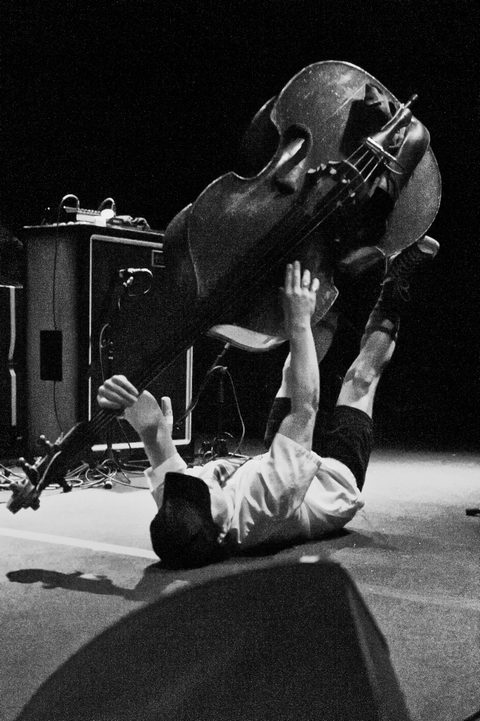 Melvins Lite
2012-10-04
Music Hall of Williamsburg
Brooklyn, NY USA
Exclusive download hosted at nyctaper.com
Recorded by acidjack and Johnny Fried Chicken Boy
Produced by acidjack
Schoeps MK41 (Balcony, DFC, DINa)>KC5>CMC6>Sound Devices USBPre2>Edirol R-44 [OCM]>24bit/48kHz WAV>Izotope Ozone 5 (EQ, harmonic exciter)>Audacity 3.0 (set fades, tracking, amplify, balance, downsample)>FLAC ( level 8 )
Tracks [Total Time 1:19:43]
01 [intro]
02 Eye Flys>
03 Captain Pungent
04 Berthas
05 National Hamster
06 Worm Farm Waltz
07 Leon vs. the Revolution
08 Mr. Rip-Off
09 A Growing Disgust
10 A History of Drunks>
11 Hooch>
12 Baby, Won't You Weird Me Out
13 Holy Barbarians
14 Let Me Roll It [Wings]
15 Set Me Straight
16 Deserted Cities of the Heart [Cream]>
17 Sky Pup
18 Electric Flower
19 Inner Ear Rupture
20 Shevil
If you enjoyed this recording, we expect that you will PLEASE SUPPORT Melvins, visit their website, visit their Facebook page, and purchase their official releases and merchandise [HERE].