[Photos by acidjack]
PopMatters and a few others stole my thunder when they suggested that The Everymen's new record, New Jersey Hardcore, might be better understood with the word "Hardcore" first instead of last. PopMatters didn't intend that as an insult, and neither do I. The simple fact is, this is the sort of band that revels in, rather than shies from, its home state, and the tropes The Everymen borrow from fellow Garden State artists are some of the state's most lovable. Musically, they are not, despite some punk leanings, "hardcore" in the sense that, say, Minor Threat was. But they're a lot of fun.
This show at Public Assembly was the band's release party for the record, which dropped October 9 on Killing Horse Records, and most of this crowd seemed thankful the following Monday was a holiday. Gruff-voiced frontman Mike V is the band's beating heart, its big, rough-around-the-edges lovable – yes – everyman who you'd probably be cheering for even if you'd never met the guy. But sharing that stage is a bona fide rock band that includes sax, keyboards and its own version of Pavement's percussionist/mascot Bob Nastanovich, and one that could power through an 18-song set on a Sunday night and gave a lot of different looks in the process. Consider just one sequence of covers during this show, when the band played Bobby Vinton's "I Love How You Love", then Reigning Sound's "As Long", then Midnight Oil's "Beds Are Burning" – all pretty faithfully. The Billy Joel and (you guessed it) Springsteen covers came later on. But the band's ability to mimic other bands shouldn't take away from their original material, which also covers a lot of ground.  The leadoff track, "Dreams" showed off the band's punk influences, as did "Coney Island High" which brought co-lead vocalist Catherine Herrick to the forefront. Other songs, like 2011's "Ballad of Sarin" head in a different direction, with a prominent sax lead and a swing-y bounce. Much like the Garden State's most famous artist, you get the sense that The Everymen's main priority is putting on the most fun rock n' roll show possible, wherever that takes them or however they need to do it. With the Jersey flag flying, the band's encore was an extended version of "Boss Johnny & the Get Lucky", a perfect coda to what Mike V called the band's best show yet. Well, lucky him – it was also his birthday. As one of the audience members who had to work the next day, I took off right after the show, but when I left, there were still plenty of admirers looking to buy him a birthday shot.
I recorded this set with a soundboard feed from the Public Assembly house engineer, combined with AKG 414 large-diaphragm microphones.  Though the vocals are a tad low in the mix in the beginning, this is generally an excellent capture. Enjoy!
Stream "Boss Johnny & the Get Lucky"

Direct download of MP3 files [HERE] | Direct download of FLAC files [HERE]
If the FLAC link is no longer working, email nyctaper for the FLAC files
Follow acidjack on twitter
Note: All of the material on this site is offered with artist permission, free to fans, at our expense. The only thing we ask is that you download the material directly from this site, rather than re-posting the direct links or the files on other sites without our permission. Please respect our request.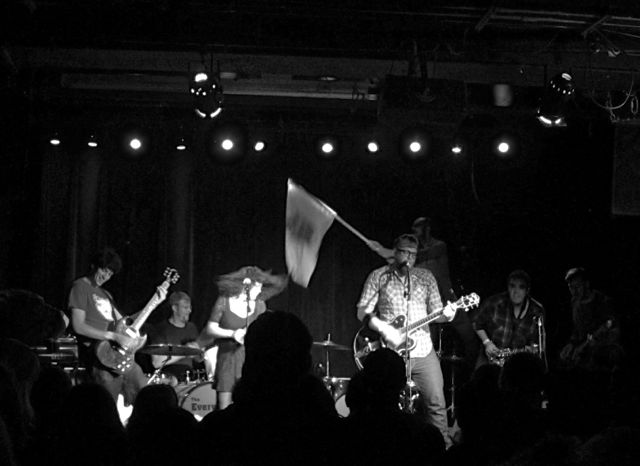 The Everymen
2012-10-07
Public Assembly
Brooklyn, NY USA
Exclusive download hosted at nyctaper.com
Recorded and produced by acidjack
AKG C 414 B-XLS (cardiod, DFC, PAS) + Soundboard > Edirol R-44 [OCM]>2x24bit/48kHz WAV>>Izotope Ozone 5 (EQ on AUD source)>Adobe Audition CS 5.5 (mixdown)>Izotope Ozone 5 (additional EQ, exciter)>Audacity (set fades, tracking, amplify, balance, downsample)>FLAC ( level 8 )
Tracks
01 Dreams
02 [comedy]
03 With the Boys
04 Telephone
05 Ballad of Sarin
06 1000 Miles
07 Zeppole Ben
08 I Love How You Love Me [Bobby Vinton]
09 As Long [Reigning Sound]
10 Beds Are Burning [Midnight Oil]
11 Get On the Train
12 A Girl Named Lou Pt. 2
13 [banter]
14 21 Career de Valencia
15 Fingers Crossed
16 Ain't Good Enough For You [Bruce Springsteen]
17 Dance Only, Only Dance
18 Coney Island High
19 [banter]
20 You May Be Right [Billy Joel]
21 Boss Johnny & The Get Lucky
If you enjoyed this recording, PLEASE SUPPORT The Everymen, like them on facebook, and buy New Jersey Hardcore directly from Killing Horse Records [HERE]