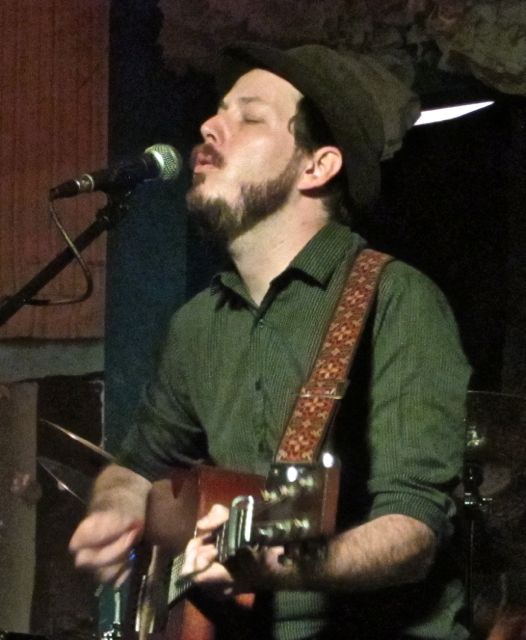 [Photos by acidjack]
Vetiver aren't the kind of band you usually find at the top of the bill on a Friday night at Glasslands. The Williamsburg club is best known for cutting-edge young rock and wild DJ nights – all good things, but not exactly this band's style. Vetiver, on the other hand, seems at times to come from a different era, with a measured, melodic 60s-inspired sound that has more to do with Simon and Garfunkel and the Grateful Dead than what's is trending in Brooklyn right now. They are a grown-up style of band in sound, style and sentiment, and they are outstanding at what they do. It's a testament to the good taste of both the PopGun Booking team (who run Glasslands) and that of the ATP Festival, where the band was playing the following night, that quality counts for more than trend-following. Like fellow travelers and Sub Pop labelmates Fruit Bats, Vetiver's music transcends trends and era-specific fixations; while there's a strong vein of the late 60s going on with the San Francisco band, their melodic, lightly psychedelic sound doesn't simply stay there. The leadoff track to their 2011 album and current release, The Errant Charm, was one of my favorites of last year, a slow-builder whose anthemic acoustic guitar riff combines with frontman Andy Cabic's sweet, soothing vocal to create a six-and-a-half minute slice of blissed-out perfection. This show found the band playing to a fully-packed house, and despite the early set time (Friday nights at Glasslands means late-night DJs) they gave us a fantastic 13-song set into the 65 minutes they had. The set focused on Errant Charm material, but they did reach all the way back to their 2005 debut to give us "Luna Sea" and to its 2006 double LP followup, To Find Me Gone for "Idle Ties".  The band made the most of their encore, too,firing off a faithful rendition of Townes Van Zandt's "Standin'".
I recorded this set with Berliner CM-33 cardiod microphones and a soundboard feed provided by Josh Thiel, the head engineer at Glasslands.  The sound quality is excellent.  Enjoy!
Stream "Standin'"[Townes Van Zandt]

Direct download of MP3 files [HERE] | Direct download of FLAC files [HERE]
If the FLAC link is no longer working, email nyctaper for the FLAC files
Follow acidjack on twitter
Note: All of the material on this site is offered with artist permission, free to fans, at our expense. The only thing we ask is that you download the material directly from this site, rather than re-posting the direct links or the files on other sites without our permission. Please respect our request.
Vetiver
2012-09-21
Glasslands
Brooklyn, NY USA
Exclusive download hosted at nyctaper.com
Recorded and produced by acidjack
Soundboard + Berliner CM-33 (DFC, ORTF)>Aerco MP-2>>Edirol R-44 [OCM]>2x24bit/48kHz WAV>Audacity 3.0 (mixdown)>Izotope Ozone 5 (EQ, effects)>Audacity 3.0 (set fades, tracking, amplify, balance, downsample)>FLAC ( level 8 )
Tracks [Total time approx 64 min.]
01 It's Beyond Me
02 Strictly Rule
03 [banter]
04 Hard to Break
05 Streets of Your Town
06 Wonder Why
07 Can't You Tell
08 [banter]
09 Pay No Mind
10 Idle Ties
11 You May Be Blue
12 Luna Sea
13 Another Reason To Go
14 Ride Ride Ride
15 [encore break]
16 Standin' [Townes Van Zandt]
If you enjoyed this recording, PLEASE SUPPORT Vetiver, visit their website, and purchase The Errant Charm and their other excellent releases directly from Sub Pop.