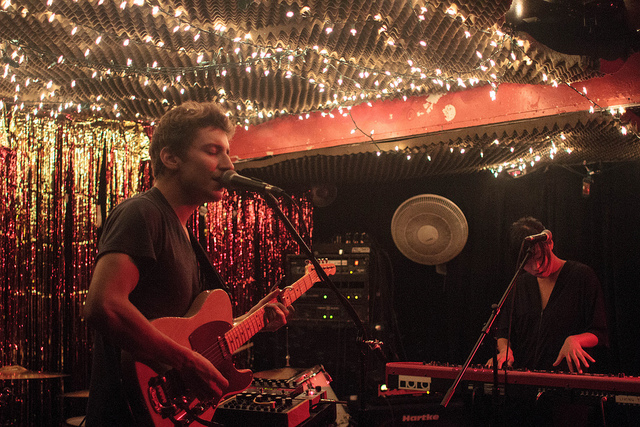 [Photos courtesy of MaryAnne Ventrice]
The documented connection between Port St. Willow frontman Nick Principe and childhood friend Peter Silbermann of The Antlers goes beyond their shared background. Both have a grandiosity and mournfulness to their sounds; both share a similar vocal style – a soaring falsetto that is its own instrument, at times obscuring the lyrics themselves. But where The Antlers lean more toward narrative storytelling and show a continued passion for rock dynamics, Principe is more comfortable in the realm of more obtuse, atmospheric composition. The songs on his debut record, Holiday, offer a variety of textures to plumb; some have described the record as "airy". After catching an impressive set opening for The Antlers this summer at Glasslands, Port St. Willow was right at the top of the list of bands to play our unofficial CMJ Day show at Cake Shop, and this set delivered on the promise of that earlier experience. Principe, backed by his touring live band, played a set of six songs in a near-seamless 35-minute set. Even in mid-afternoon, the 10+ minute opener "Hollow" wowed the sizable crowd as Principe & Co. built his delicate compositions from scratch before our eyes. The recording that you have here is arguably the best quality of all that we recorded during this show, and other than a couple of spots where the vocal mic distorted during "Tourist", it is virtually flawless. We hope that you enjoy, and head to Port St. Willow's bandcamp page to check out Holiday in its full glory.
Stream "Hollow"

Direct download of MP3 files [HERE] | Direct download of FLAC files [HERE]
If the FLAC link is no longer working, email nyctaper for the FLAC files
Follow acidjack on twitter
Note: All of the material on this site is offered with artist permission, free to fans, at our expense. The only thing we ask is that you download the material directly from this site, rather than re-posting the direct links or the files on other sites without our permission. Please respect our request.
Port St. Willow
2012-10-18
NYCTaper CMJ Day Show
Cake Shop
New York, NY USA
Exclusive download hosted at nyctaper.com
Recorded and produced by acidjack
Soundboard (engineer: Justin) + Schoeps MK5>KCY>Z-PFA>>Edirol R-44 [OCM]>Adobe Audition CS 5.5 (split and edit SBD tracks, mix down, fades, align, adjust levels)>Izotope Ozone 5 (EQ, thicken, exciter)>Audacity 3.0 (tracking, amplify, balance, downsample)>FLAC ( level 8 )
Tracks
01 Hollow
02 Amawalk>
03 On Your Side
04 Five Five Two Five>
05 Tourist
If you download this recording from NYCTaper we expect that you will PLEASE SUPPORT Port St. Willow, and visit the Bandcamp page to purchase Holiday [HERE].