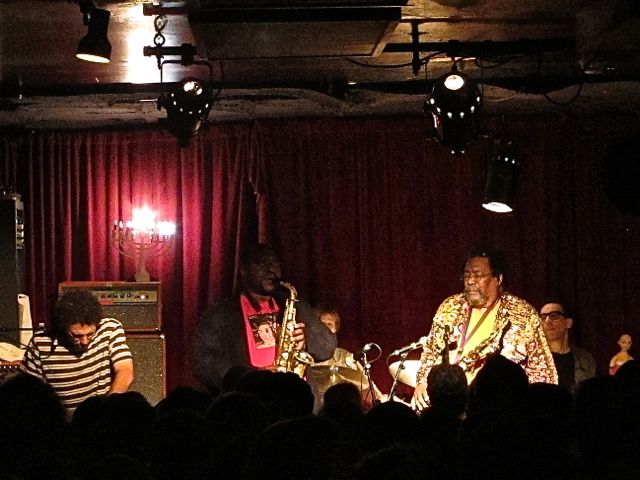 [Photos by acidjack]
These Yo La Tengo Hanukkah shows celebrate and reinforce connections. Connections among the band's superfans, many of whom have traveled hundreds if not thousands of miles. Connections among musicians who have collaborated for years, or may be collaborating for the first time. Connections from the past – no less than two friends I spoke to on this night told me how "Our Way To Fall" was or had been "their song" with their significant other. And, of course, our connection with this little and strange and wonderful trio, made grander both by those with whom they share the stage, and the ambition with which they share it. Each of night of this Festival of Lights, in the band's spiritual home of Maxwell's in flood-battered Hoboken, there will be new connections made, old ones renewed, new community created.
How appropriate, then, that this Sunday night's special guest and opening act was the Sun Ra Arkestra.  Since the mid-1950s, the Sun Ra Arkestra has been an ever-evolving jazz collective, led by a bandleader (Sun Ra himself, until his death, and today, Marshall Allen) but in many ways a musical organism, each component unique and irreplaceable, no part ever static. We knew the Arkestra would blow us away, and they did, with an hour of frenetic, spaced-out improvisational jazz that ended with the full Arkestra circling through the crowd, playing all the way out the door. We also expected that their presence would have an impact on Yo La Tengo's song selection and style.
The band got an assist tonight from the night's comedian and erstwhile musician-about-town (I've seen play recently with Dinosaur Jr. for their 25th anniversary show as well as Telekinesis) Fred Armisen, who played drums all night. Having Fred on drums gave Georgia more freedom to come out from behind the kit, and the result was more songs that featured her on vocals. The fast version of "Today Is the Day" was one such moment, along with set closer "Dreaming" (performed, ironically, without any of the Sun Ra Arkestra).  We also got to hear the first live version of the band's new single, "Stupid Things", from their forthcoming Matador release, Fade.  But it was the second part of the set, when honorary Arkestra members Sabir Mateen and Darius Jones took the stage, that turned this show into a full-blown freakout. Starting off with YLT's rarely-played 1991 Bar/None seven-inch, "Walking Away From You", the combo of Ira, Georgia, James, Armisen, Mateen and Jones then gave us an intense "Shaker" before hitting the back-to-back pieces de resistance, a ten-minute version of Sun Ra's "Nuclear War" led by James on vocals (but with a hilarious turn by Georgia), followed by the thirteen-and-a-half minute psychedelic opus of "And The Glitter Is Gone" from 2009's Popular Songs. I doubt this song will be given better treatment any time in the rest of the band's career.
I recorded this show in the usual manner for this venue, with microphones mounted in the front corner of the soundboard and mixed with an outstanding feed provided by longtime YLT FOH Mark and Maxwells' house sound tech Carson. As with last night's set, some new mics were in the mix, this time MBHO KA200N cardiods, which are prized for their crisp, clean sound.  The results, like last night, are excellent, with this mix favoring the room sound a bit more. Enjoy!
Tonight's show was a benefit for The Carl Bini Foundation for Staten Island Victims of Hurricane Sandy. Among the boroughs of New York City, Staten Island suffered some of the worst damage from the storm and could use your help this holiday season. We ask that if you download this show, you contribute to the charity. Although you are not required to donate to the charity in order to download this show, Yo La Tengo would greatly appreciate it if you would.
Stream "And the Glitter Is Gone":

Download the MP3 files [HERE] | Download the FLAC files [HERE]
Please note: Due to high download volume, we are hosting these files off-site. The off-site host has a maximum download limit of 500, which will periodically be reached. Please let us know if the download limit is reached and we will re-upload the files in a new location.  

If the FLAC link is no longer working, email nyctaper for the FLAC files
Follow acidjack on twitter
Note: All of the material on this site is offered with artist permission, free to fans, at our expense. The only thing we ask is that you download the material directly from this site, rather than re-posting the direct links or the files on other sites without our permission. Please respect our request.
Yo La Tengo
2012-12-09
Hanukkah Night 2
Maxwell's
Hoboken, NJ USA
Exclusive download hosted at nyctaper.com
Recorded and produced by acidjack
Benefit for the Carl Bini Foundation For Staten Island Victims of Hurricane Sandy
MBHO KA200N>MBP 603 + Soundboard (engineer: Mark)>>Edirol R-44 [OCM]>2x24bit/48kHz WAV>Adobe Audition CS 5.5 (mix down, adjust levels)>Izotope Ozone 5 (light EQ and exciter)>Audacity 3.0 (set fades, tracking, amplify, balance, downsample)>FLAC ( level 8 )
Special thanks to Jesse Jarnow for the setlist
Tracks [Total Time: 1:29:21]
01 Autumn Sweater
02 Sudden Organ
03 Who Loves the Sun [Velvet Underground]
04 Today Is The Day (fast)
05 [banter1]
06 As the Hour Grows Late
07 [banter2]
08 Stupid Things
09 [banter3]
10 Shadows
11 Black Flowers
12 Walking Away From You*
13 Shaker*
14 Nuclear War [Sun Ra]*
15 And The Glitter Is Gone*>
16 Our Way To Fall*
17 [encore break]
18 Can't Make It On Time [The Ramones]
19 Dreaming [Sun Ra]
– entire set feat. Fred Armisen on drums
* with Sabir Mateen and Darius Jones of Sun Ra Arkestra on saxophones
If you download this recording from NYCTaper, we expect that you will PLEASE SUPPORT Yo La Tengo, visit their website, and pre-order the new album Fade from Matador Records [HERE].