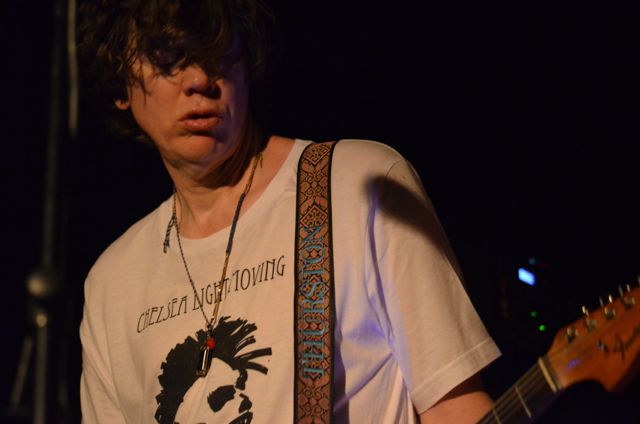 [Photos courtesy of P Squared Photography]
Just before ripping into "Burroughs", their first song, Thurston Moore opened this show by his new band Chelsea Light Moving with a quote from Mike Watt: "When you're not playing, you're paying."
I had to remind myself at several points during this show that the exuberant, youthful guitarist and vocalist on the cozy Maxwell's stage in his band's own t-shirt was a 54-year-old member of rock royalty who I had seen perform in front of crowds hundreds of times this size. Sonic Youth may be on hiatus or it may be gone, but Thurston will keep playing – and keep playing well – for as long as he's breathing. Chelsea Light Moving, as a band, isn't Sonic Youth, but it isn't just a dim facsimile of it, either. With Samara Lubelski (a well-known solo artist and member of Thurston's solo band) on bass, John Moloney (Sunburned Hand of the Man) on drums and Keith Wood (Hush Arbors, Wooden Wand) on guitar, Chelsea Light Moving has an accomplished cast and its own personality. In some ways, CLM feels more like SST-era Sonic Youth – younger, hungrier, rawer. It seems fun to be in this band, in a way that's almost impossible in a more established one.
Compared to an early performance back in September at 285 Kent (recording here), this time CLM felt more like a real band with real songs than a Moore & Friends jam session, with songs like "Alighted" more fully realized than their rough-sketch forms. There was also new material to be had, including the mid-tempo rocker "Sunday Stage", which seemed like an homage to Wood's other band, Hush Arbors. "Empires of Time" was dedicated to another rock n' roll survivor, Roky Erickson, while "Staring Statues", the set closer, gave us some Psychic Hearts-era Moore greatness. The entire show might have been worth the price of admission for the encore break alone, as Moore told stories, promised a fan he really would make some Feelies recordings he had said he would make fifteen years ago, and generally held court. He was calm, engaging, relaxed. Free of expectations. Chelsea Light Moving stands as a great band in its own right, and as a second act, it's more than a worthy one.
We recorded this set from our usual spot in the venue with a flawless soundboard feed by longtime Maxwell's engineer Carson Kopp and the band's touring engineer Bentley.  I used a pair of Schoeps MK5 microphones for my source while nyctaper tried out his new set of Neumann TLM-102 large-diaphragm cardiod microphones.  We are offering both sources for your enjoyment, and both are outstanding. Enjoy!
Stream "Staring Statues" from Source 1 (Schoeps):

Stream "Empires of Time" from Source 2 (Neumann):

Download Source 1 (Schoeps): [MP3] | [FLAC]
Download Source 2 (Neumann): [MP3] | [FLAC]
Note: All of the material on this site is offered with artist permission, free to fans, at our expense. The only thing we ask is that you download the material directly from this site, rather than re-posting the direct links or the files on other sites without our permission. Please respect our request.
Chelsea Light Moving
2013-03-02
Maxwell's
Hoboken, NJ USA
Exclusive download hosted at nyctaper.com
Recorded and produced by acidjack
Soundboard (engineers: Bentley & Carson Kopp)+Schoeps MK5 (PAS)>KC5>CMC6>Sound Devices USBPre2>>Edirol R-44 [OCM]>Adobe Audition CS 5.5 (align, mix down)>Izotope Ozone 5 (EQ, tape effect exciter)>Audacity 3.0 (fades, tracking, amplify, balance, downsample)>FLAC ( level 8 )
Tracks
01 [intro]
02 Burroughs
03 Sleeping Where I Fall
04 Alighted
05 Lip
06 [banter1]
07 Frank O'Hara Hit
08 [banter2]
09 Groovy + Linda
10 No Go
11 Sunday Stage
12 [banter3]
13 Empires of Time
14 [encore break]
15 Staring Statues
If you enjoyed this recording, please support Chelsea Light Moving, visit their website, and buy their debut LP from Matador Records [HERE]