[Photos courtesy of David Andrako]
The transition from headlining act at DIY Brooklyn shows to opener at the Bowery Ballroom can be a rocky one for some indie bands. Where a scrappy aesthetic plays well when there's a mosh pit going and you're closing out a long night to a partying crowd, it sometimes works less well when you're playing a half-empty Bowery to people who came to see someone else.
Happily, that was not the case for Parquet Courts, despite being the opener on a three-act bill that included fellow Brooklynites Nude Beach and The Men. In fact, if you looked down at the full floor at the start of their set, you could be forgiven for confusing Parquet Courts for the headliner.  The band's performance more than held up their end of the bargain, with the energy of songs from their debut album, Light Up Gold carrying over just as brilliantly as they did at the band's raging 285 Kent show that we saw last November. Lest you think Parquet Courts are some lo-fi band that can't play, be advised that there's some legitimate guitar shredding going on along with the New Wave-ish rhythm guitar parts, which gives added heft to songs like "Yr No Stoner" and gives the band room to grow their sound in the future.  The band let us know that they were going to be staying up all night this night, as they were flying to Mexico City the following day, followed by ToddP's Festival Nrmal and SXSW after that.  I hope their audiences to the south have as much fun with them as we did here in NYC.
I recorded this set with Schoeps MK41 supercardiod microphones and a soundboard feed from longtime Bowery engineer Kenny.  The sound is excellent.  Enjoy!
Stream "Stoned and Starving"

Download the complete show: [MP3] | [FLAC]
Note: All of the material on this site is offered with artist permission, free to fans, at our expense. The only thing we ask is that you download the material directly from this site, rather than re-posting the direct links or the files on other sites without our permission. Please respect our request.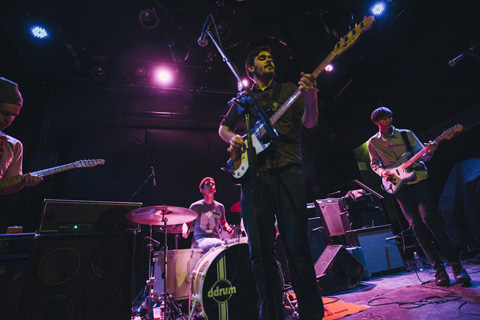 Parquet Courts
2013-03-07
Bowery Ballroom
New York, NY USA
Recorded and produced by acidjack for nyctaper.com
Schoeps MK41 (DINa)>KCY>Z-PFA + Soundboard (engineer: Kenny)>>Edirol R-44 [OCM]>2x24bit/48kHz WAV>Adobe Audition CS 5.5 (align, mix down)>Izotope Ozone 5 (EQ, tape exciter, imaging)>Audacity 3.0 (fades, tracking, amplify, balance, parallel compression, downsample)>FLAC ( level 8 )
Tracks
01 Racing Through the Dark
02 Stoned and Starving
03 Donuts Only
04 Yr No Stoner
05 [banter1]
06 Careers In Combat
07 N Dakota
08 Yonder Is Closer To My Heart
09 Light Up Gold II
10 [unknown1]
11 Master of My Craft
12 Borrowed Time
If you download this recording from NYCTaper, PLEASE SUPPORT Parquet Courts, visit their website and purchase Light Up Gold from the Dull Tools Records website [HERE].