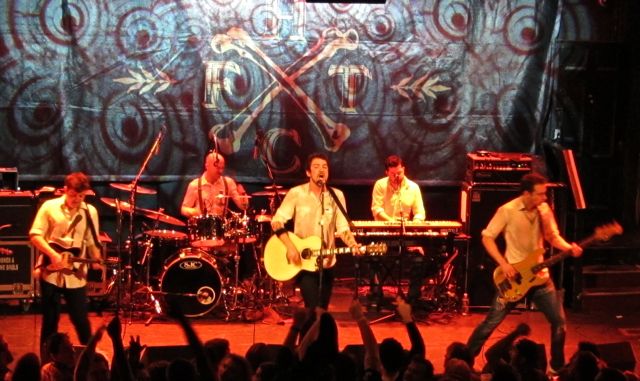 [Photos by acidjack]
It's possible to forget the point of why people go to concerts. We have music at our fingertips at all times — studio releases, live stuff (sites like this don't hurt), comps, outtakes — it's all out there. We don't really need to go to concerts to hear what a band sounds like live, anymore. YouTube and LiveStream and other streaming services promise to beam The Concert Experience right to your laptop.
Enter Frank Turner, and his band he calls the Sleeping Souls. What they do at a live show can't be fully replicated by a download or a stream; it can't even be replicated one night to the next. Every crowd is different, and so is every night's vibe. Turner's live show puts the fans first, and makes getting them involved a priority. He has that rare knack for creating instant community, the kind where even emo-ish numbers can churn up a mosh pit, where people don't dance or clap along because they're asked to, but because they want to.
Frank came to the Bowery Ballroom on a pre-release tour for his new record Tape Deck Heart, a more intimate performance to follow-up his sold-out show at Webster Hall that we covered last year. On this night, Frank previewed a number of new songs from the new record, which came out today. From the opening one-two punch of "I Am Disappeared" into "The Road" came one highlight after another; the first of the new songs, the Tape Deck Heart kickoff track, "Recovery" showed all the promise of the new record. Turner has earned his hard-core fan base the natural way: by being open and genuine, by remembering why he is here and where he came from. Frank sent us out into the night with a three-song medley of "If I Ever Stray", "Photosynthesis" and "Dan's Song", each delivered with a youthful exuberance that can't be imitated, or faked. But really, it was the speech in the middle of "Photosynthesis" that told it all:
"What we're doing is, we've got a couple of hundred people who left their bullshit and their differences at the door this evening — myself included — and we came in here to be friends, and equals, just for a few hours. And to sing, to dance, and to have a good fucking time!"
So maybe you don't need to go to concerts anymore. But you ought to.
I recorded this set from our usual spot in the Bowery Ballroom with Schoeps MK5 cardiod microphones and a soundboard feed provided by the band's sound engineer and tour manager Casey. As agreed with the band, we have waited until the record's release day to offer up this live set. If you don't already have enough reasons, I hope this recording inspires you to buy Tape Deck Heart, go to Frank's shows, and support what he's doing. Enjoy!
Stream "Recovery"

Stream "Photosynthesis"

Direct download of the complete show: [MP3] | [FLAC]    
If the first FLAC link has expired, please use this alternate, permanent link: [FLAC]
Note: All of the material on this site is offered with artist permission, free to fans, at our expense. The only thing we ask is that you download the material directly from this site, rather than re-posting the direct links or the files on other sites without our permission. Please respect our request.
Frank Turner & the Sleeping Souls
2013-03-04
Bowery Ballroom
New York, NY USA
Exclusive download hosted at nyctaper.com
Recorded and produced by acidjack
Soundboard (engineer: Casey) + Schoeps MK5 (DIN, slightly LOC)>KC5>CMC6>Sound Devices USBPre2>>Edirol R-44 [OCM]>2x24bit/48kHz WAV>Adobe Audition CS 5.5 (align, adjust levels, mix down)>Izotope Ozone 5 (EQ, exciter)>Audacity 3.0 (set fades, tracking, amplify, balance, downsample)>FLAC ( level 8 )
Setlist courtesy of Dry Paint Signs
Tracks [Total Time: 1:31:49]
01 I Am Disappeared
02 The Road>
03 Peggy Sang the Blues
04 [banter1]
05 Recovery>
06 Glory Hallelujah>
07 Reasons Not to Be an Idiot
08 [banter2]
09 Losing Days
10 [banter3]
11 Wessex Boy
12 Substitute
13 The Real Damage
14 Good & Gone
15 Chelsea Hotel #2 [Leonard Cohen]
16 [banter4]
17 I Knew Prufrock Before He Got Famous
18 One Foot Before the Other
19 Long Live the Queen
20 [banter5]
21 Four Simple Words>
22 Try This at Home>
23 I Still Believe
24 [encore break]
25 If Ever I Stray>
26 Photosynthesis>
27 Dan's Song
If you enjoyed this recording, PLEASE SUPPORT Frank Turner & The Sleeping Souls, visit their website and their Facebook page, and purchase their official releases and merchandise including Tape Deck Heart [HERE], at Amazon and at iTunes.  And go see their shows!