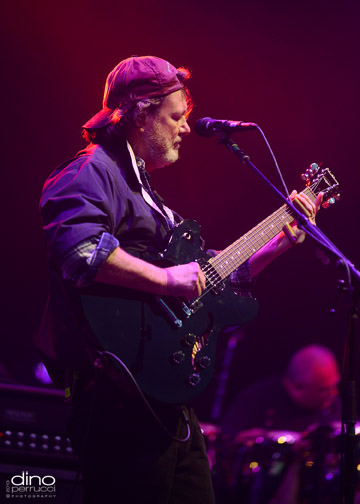 [Photos courtesy of Dino Perrucci Photography]
A really great ensemble live performance unfolds like a conversation. When performers have been together as long, and achieved as much of a cult following, as Widespread Panic, fans aren't going to be content with just great musicianship or catchy riffs. They want a set that builds a narrative through the interaction of the players, that crests and ebbs and morphs in stages. Something that takes you on a trip.
This was a wet, wet Friday night at Mountain Jam, the deluge so intense you wondered at points if you'd ever be dry again. Water flowed over everything and the mountain got turned into straight mud. But through that rain, Widespread gave a set filled with uplift, darkness, rapid-fire riffs and carefully woven jams. It was three hours of music that was thoughtfully constructed and flawlessly delivered, the perfect soundtrack to a communal night with nature and each other.
As is often the case, the highlight of the night's set was set two, which went heavier on the psychedelic material. Kicking off with "Little Kin" things just kept stretching out as the band played a stunning "Pigeons" followed by "Disco" into "You Should Be Glad", the perfect rejoinder to anyone who dared bitch about the rain. Saxophonist Bill Evans (whose own set was posted here yesterday) joined up for a 16-minute "Low Spark of the High Heeled Boys", and Gov't Mule keyboardist Danny Louis joined Evans and the band for a sick medley of "Surprise Valley".
If you were at this show, you were soaked and probably cold. But you were also on a mountainside, with Panic to guide your night, with good feeling all around you. And that is the essence of Mountain Jam, or any of these music festivals, really — to let the music take you on a journey with your fellow fans, one that you're better for having been on. This one was unforgettable, and in my opinion the best performance of the festival.
I recorded this set with AKG C 414 large-diaphragm microphones in the cardiod setting (and a very good umbrella!) from the taper's section. The sound quality is excellent. Enjoy!
Stream "Pigeons"

Download the full set: [MP3] | [FLAC]
Note: All of the material on this site is offered with artist permission, free to fans, at our expense. The only thing we ask is that you download the material directly from this site, rather than re-posting the direct links or the files on other sites without our permission. Please respect our request.
Widespread Panic
2013-06-07
Mountain Jam IX
Hunter, NY
Hosted at nyctaper.com
Recorded and produced by acidjack
AKG C 414 B-XLS (cardiod)>Edirol R-44 [Oade Concert Mod]>24bit/48kHz WAV>Izotope Ozone 5 (EQ, imaging, exciter)>Audacity 3.0 (fades, tracking, amplify, balance, downsample)>FLAC ( level 8 )
Tracks [Total Time 2:53:19]
SET 1
01 Give
02 Ribs & Whiskey
03 Happy
04 Blue Indian
05 Good People>
06 Me and the Devil Blues
07 One Arm Steve >
08 Jack
09 Proving Ground >
10 Junior —
SET 2
11 [tuning]
12 Little Kin>
13 Pigeons
14 Disco>
15 You Should Be Glad —
16 Low Spark of High Heeled Boys*
17 Surprise Valley> **
18 Drums>
19 Papa Legba >
20 Surprise Valley
21 Protein Drink>
22 Sewing Machine
23 [encore break]
ENCORE
24 Expiration Day
25 Travelin' Light
* w/ Bill Evans (sax) and Danny Louis (keys)
** w/ Bill Evans (sax)
— Disc break if you are making CDs
If you enjoyed this recording, PLEASE SUPPORT Widespread Panic, visit their website, and buy their official releases and merchandise from their online store.