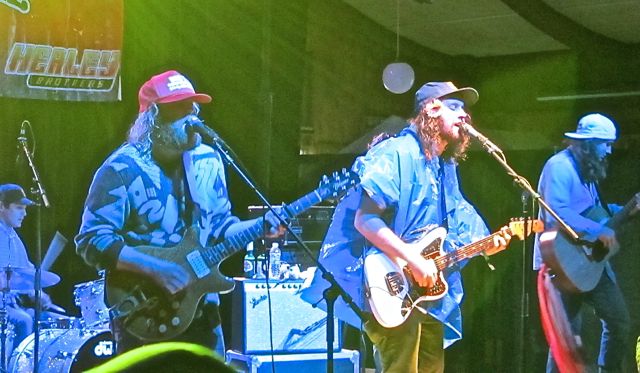 [Photos by acidjack]
The Futurebirds have built a following in the grand tradition of rock bands of yore — touring like hell and putting on a solid show at each stop, whether they're the headliner or the undercard. Thus, we've gone from seeing them at Union Pool (capacity: 100) as headliner in 2011 to opener for Heartless Bastards at Irving Plaza in 2012 to headlining Bowery Ballroom in 2013. Color me less than surprised that the Mountain Jam organizers — eager to broaden that festival's base beyond the purely "jam band" scene but wanting to stock the fest with acts whose live show could pass muster — added Futurebirds to the bill. While being on the smaller Healey Brothers indoor stage may not have seemed like a blessing at first, this Friday of the festival had non-stop torrential rain from afternoon until late night, meaning this set gave fans an opportunity to not only see a great act, but to get dry for a bit. Those smart enough to do so got sixty solid minutes of Futurebirds, in a set that hit many of their live show highlights like "M J D", "Battle For Rome" and "Virginia Slims" and left fans wanting more. Dressed in rain ponchos they didn't bother to take off, the band's energy and enthusiasm made a strong argument for an invite to the bigger stage next year.
I recorded this set with MBHO microphones at the soundboard. This room had a sub-optimal design for live sound, especially at the relatively long distance from the stage where I was setup. Further, there is some crowd chatter that can be heard from time to time. While this recording is not up to the standard of the site's other three Futurebirds recordings, it is a worthwhile listen. Enjoy!
This NYCTaper recording is being hosted on the Live Music Archive.  You can stream the entire show by clicking the song titles below or download it via the links provided.
Direct download of the entire show: [MP3] | [FLAC]
Stream the full set:
Futurebirds
2013-06-07
Healey Brothers Stage
Mountain Jam IX
Hunter, NY USA
Hosted at nyctaper.com
Recorded and produced by acidjack
MBHO KA200N>MBP603>Roland R-26>24bit/48kHz WAV>Izotope Ozone 5 (EQ, exciter)>Audacity 2.03 (fades, tracking, amplify, balance, downsample)>FLAC ( level 8 )
Tracks [Total Time
01 [intro]
02 Tanlines
03 Sam Jones
04 Serial Bowls
05 Battle For Rome
06 Virginia Slims
07 Johnny Utah
08 [banter]
09 M J B
10 [banter2]
11 Wild Heart [Stevie Nicks]
12 Yur Not Ded
If you enjoyed this recording, PLEASE SUPPORT Futurebirds, visit their website, and buy their records and merch from their online store.