[Photos by acidjack]
Fans of Mike Doughty, previously known as "M Doughty", lead singer of seminal '90s oddballs Soul Coughing, may already be familiar with the journey of self-discovery that led him to abandon his role as frontman of a popular act to become a freewheeling solo performer, with the waypoints of addiction and recovery (not to mention what some incorrectly interpreted as a religious conversion) along the way. Mike told the whole story in his 2012 memoir, The Book of Drugs, but if you followed his solo work from early last decade to now, much of the story was already there for the taking.
Though Mike's solo efforts have abandoned some of the more frenetic elements of the Soul Coughing sound, which culled rhythmic textures from soul, funk and hip-hop, his solo work retains that band's most distinctive element — Mike's voice. Though his voice won't be accused of having big-rock-singer range, it is one of the most distinctive of recent decades. A kind of sing-speak whose flow is at times reminiscent of hip-hop and scatting, Doughty's voice is custom-built for storytelling. Similarly, his lyrics are smart, evocative, and unabashedly original. Nobody sees the world quite the way that Mike Doughty does.
This set, performed opening for Low at Music Hall of Williamsburg, found Doughty in the format with which he's now most comfortable, stripped down to him, an acoustic guitar and a drummer. For almost a full hour, Mike led us on a journey through his entire solo career, from early 2000s work from Skittish and Rockity Roll (now available as a single 2-record release) such as "Shunned + Falsified", "Ossining" and his first solo single, "27 Jennifers", to his newest work like "Na Na Nothing" (which Doughty claims was "partially stolen" from a song written by Nikki Sixx, Dan Wilson and Matt Gerrard) and his cover of John Denver's "Take Me Home, Country Road". Even on the fairly large Music Hall stage, Mike's set felt like an intimate evening in a living room, with Mike amiably taking (and turning down some) requests and making his fair share of self-deprecating jokes. One of my personal favorites, and one of the most obviously autobiographical, was "Looking At the World From the Bottom of A Well" from 2005's Haughty Melodic. It's worth noting that that record also represented Mike's first major-label record since leaving Soul Coughing and spending the first half the decade self-releasing his records and touring under his own steam. The music world has fewer great second acts than maybe it ought to, but Mike's is one of the most inspiring of all. As to what he's up to this year, Mike is busy re-recording and re-interpreting thirteen of his Soul Coughing classics, which will be self-released later this year. You can support that effort through PledgeMusic here.
This is a recording of outstanding quality. We'd like to personally thank Mike for giving us permission to share it. Please support his efforts by attending his shows and visiting the PledgeMusic page noted above.
Stream "27 Jennifers"

Stream "Looking At the World From the Bottom of A Well"

This NYCTaper recording is being hosted on the Live Music Archive.  You can stream the entire show by clicking the song titles below or download it via the links provided.
Direct download of the entire show: [MP3] | [FLAC]
Stream the full set: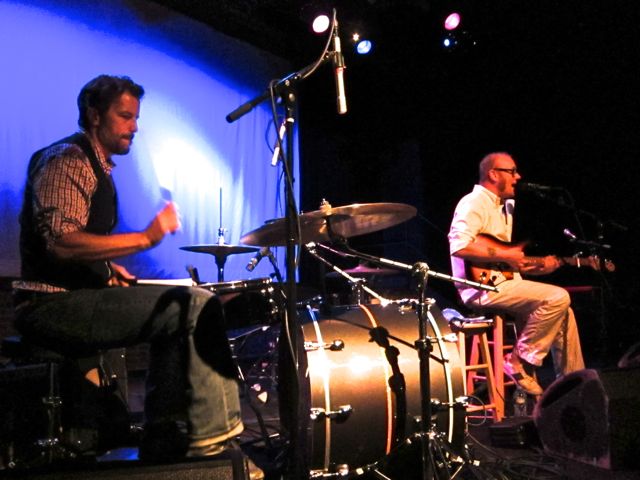 Mike Doughty
2013-06-19
Music Hall of Williamsburg
Brooklyn, NY USA
Hosted at nyctaper.com
Recorded and produced by acidjack
Soundboard>Edirol R-44 [Oade Concert Mod]>Adobe Audition CS 5.5 (create room ambiance, adjust levels, fades, compression)>Izotope Ozone 5 (EQ, tape effects)>Audacity 2.03 (amplify, balance, tracking, downsample)>FLAC ( level 8 )
Tracks [Total Time 59:15]
01 Ways and Means
02 Lord Lord Help Me Just To Rock On
03 (I Keep On) Rising Up
04 Down On the River By the Sugar Plant
05 (You Should Be) Doubly (Gratified)
06 Madeline and Nine
07 Ossining
08 Like A Luminous Girl
09 Shunned + Falsified
10 Looking At the World From the Bottom of a Well
11 27 Jennifers
12 [banter1]
13 Take Me Home, Country Road [John Denver]
14 Nectarine (Part One)
15 [banter2]
16 Nah Nah Nothing From Me
17 Put It Down
18 Train To Chicago
19 I Hear the Bells
If you enjoyed this recording, PLEASE SUPPORT Mike Doughty, visit his website, and buy his forthcoming record from PledgeMusic.