[Photos by acidjack]
As Woods played in front of a fantasia of psychedelic swirls provided by Drippy Eye Projections, I thought back to another of many memorable Woods shows I've been to, where they played Abrons Arts Center with the Joshua Light Show, which these projections most resembled. Or there was the time they played St. Cecilia's Church during the 2011 Northside Festival. Or the first couple times I saw them, in both cases opening for bands they are much bigger than now and whose careers they have outlasted, and thought, wow, these guys are really different. And they're great. 
Like all bands with staying power, Woods have continued to evolve without abandoning the core elements of their sound — Jeremy Earl's nasal, high pitched voice, the ramshackle folk, the not-quite-retro psychedelia. What has evolved into a very different beast is the band's now-huge guitar sound, which barely resembles their earlier records and has turned them into a sonic juggernaut live. When the one minute, fifty four second song "I Was Gone" becomes a fourteen-minute behemoth of a jam now, the reaction isn't being surprised or impressed that they're trying it — it's paying attention to what will be good about this version of the song. A Woods set, which rarely runs far past an hour, has become like a controlled dose of Grateful Dead. Every minute is worth watching, and the "jam songs" are ones you feel compelled to debate the best one of, date by date.
This set at Bowery Ballroom, which closed out their latest U.S. tour after a well-received Pitchfork Festival appearance the previous weekend, recalled several elements of the November show at Music Hall that we attended, but with a couple of exciting new offerings. Not only did the band play the new song "Shining", which we assume will appear on their next record or in recorded format at some point, but they were also joined by Alex Bleeker of opening act Alex Bleeker and the Freaks for a special rendition of Creedence Clearwater Revival's ever-popular "Have You Ever Seen the Rain". Woods will be spending August in Europe and September on the West Coast. If you're in either of those places, don't miss seeing them. Tour dates can be found [HERE].
I recorded this set with Schoeps MK5 cardiod microphones and a soundboard feed from longtime Bowery engineer Kenny. The sound quality is outstanding. Enjoy!
Stream and download this recording on our bandcamp page:

Note: All of the material on this site is offered with artist permission, free to fans, at our expense. The only thing we ask is that you download the material directly from this site, rather than re-posting the direct links or the files on other sites without our permission. Please respect our request.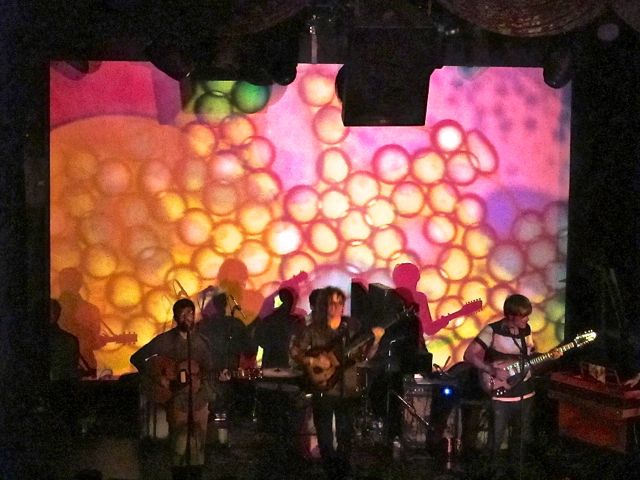 Woods
2013-07-27
Bowery Ballroom
New York, NY USA
Exclusive download hosted at nyctaper.com
Recorded and produced by acidjack
Schoeps MK5 (DIN, DFC)>KCY>Z-PFA>Sound Devices USBPre2 + Soundboard (engineer: Kenny)>>Edirol R-44 [OCM]>2x24bit/48kHz WAV>Adobe Audition CS 5.5 (align, mix down)>Izotope Ozone 5 (EQ, effects)>Audacity 2.03 (fades, tracking, amplify, balance, downsample)>FLAC ( level 8 )
Tracks [Total Time 1:06:17]
01 Pushing Onlys
02 Suffering Season
03 Cali In A Cup
04 Shining
05 Bend Beyond
06 [jam]
07 Size Meets the Sound
08 Is It Honest?
09 [banter/tuning 1]
10 Be All Be Easy
11 Find Them Empty
12 I Was Gone
13 [encore break]
14 Rain On
15 [banter2]
16 Have You Ever Seen the Rain? [Creedence Clearwater Revival]
If you download this recording from nyctaper, we expect that you will PLEASE SUPPORT Woods, visit the Woodist page and purchase their official releases including their latest album Bend Beyond from Woodist Records [HERE].