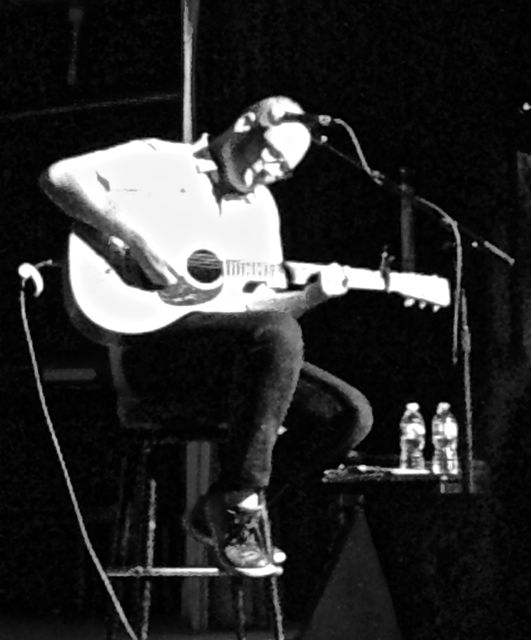 [Photos by acidjack]
I arrived at this Mike Doughty show at City Winery having just finished his autobiography, The Book of Drugs. Reading Mike's book — which tells the story of his rollercoaster experience fronting the seminal 90s cult band Soul Coughing as well as his battles with addiction — made seeing him perform Soul Coughing songs again for the first time in thirteen years all the more meaningful. As happens all too often with bands that reach a certain level of commercial success, Soul Coughing dissolved at the end of the 1990s in a bitter fight about money and songwriting credit. So Doughty — who by that point was nearing rock bottom in his abuse of drugs and alcohol — struck out on his own a solo act right when the music industry imploded. Early solo shows, where he shared material from the Skittish LP he had recorded in the Soul Coughing days, meant facing crowds howling for Soul Coughing tunes that Doughty felt disconnected from, and disappointed in. In his telling, Doughty not only felt that his bandmates denied him the credit he was due for writing the songs, but that in many cases those better-trained musicians had adulterated the intent of his compositions. So Mike stopped playing Soul Coughing songs, and the fans that weren't open-minded or intelligent enough to dig the new material fell away. The fan base that remained, though, is fanatical.
Today Mike is in a comfortable groove musically and, as the book makes clear, emotionally. What that means for fans is that Mike decided to rework some of Soul Coughing's best-loved numbers in the way he intended them to be heard, with a full band backing him. You can purchase that forthcoming record, and keep track of its progress (including previews), on Mike's PledgeMusic page. In the meantime, he has taken those old Soul Coughing songs off the shelf to be played proudly alongside the songs he's been writing for the past thirteen years. While there's no way to take a valid position on Soul Coughing's past or songwriting process without hearing the story from all sides, it's clear that there is a consistency to Mike's work that has spanned his career. Stripped to their essentials, Mike's songs are hook-driven, lyrically inventive songs filled with unique phrasing and clever observations. Even if the hooks can get repetitive once in awhile — even Mike joked that he keeps writing his favorite song over and over — a great Mike Doughty song is a great Mike Doughty song, and that voice of his can't be replicated.
This show was comprised of two hour-plus solo sets, with Mike alone at the guitar, relaxed under the lights. First we got "Janine" from Ruby Vroom, followed by "I Hear the Bells" off Mike's best-known solo album, Haughty Melodic. Then "St. Louise Is Listening" from El Oso, one of the songs that reimagined best as an acoustic number. When Mike played "Unmarked Helicopters", Soul Coughing's contribution to Songs In the Key of X: Music From the X-Files, it was clear we were going to have a special night with lots of time deep in the catalog.
Some of the Soul Coughing songs work better than others as acoustic numbers: Without its killer baseline and frenetic samples whirling around, "Super Bon Bon" becomes a bit lifeless, but others like "Soft Serve" and, yes, the band's biggest radio hit, "Circles", retain their infectious power. The solo work wasn't to be ignored, too — Cheap Trick's "Southern Girls" and Thin Lizzy's "Running Back", both of which appear on Doughty's recent The Flip Is Another Honey, became a single song in Doughty's live mashup.  But for me, having just read The Book of Drugs, the most powerful solo numbers were the ones that told stories of darker days: "Unsingable Name", "Sunken-Eyed Girl" and "Tremendous Brunettes".
It'd be tempting to characterize this show as one of redemption, where the prodigal singer returns to being his old self. I suspect Doughty wouldn't see it that way; to him, when it comes to being the lead singer of the band Soul Coughing, a guy who existed 13 years ago, he's still not that guy. And it'd be wrong to assume the artist sees playing these songs as a return to some kind of glory days, either. How you feel about Doughty's catalog is your business, but in Mike's mind — and to a good many of his fans — his next chapter of making music has been every bit the equal of his first, and more true to his spirit. Hearing the songs side by side, played just as he wrote them, I think it's hard to argue otherwise.
Mike will be touring as a three-piece band this fall, performing sets of all Soul Coughing songs. Tickets are available from him here.
I recorded this set with a soundboard feed from Mark, the outstanding house engineer at City Winery. The recording is flawless. Enjoy!
This NYCTaper recording is being hosted on the Live Music Archive.  You can stream the entire show by clicking the song titles below or download it via the links provided.
Direct download of the entire show: [MP3] | [FLAC]
Stream "Unmarked Helicopters"

Stream "Soft Serve"

Stream the entire show:


[PledgeMusic contributor Josh Rosenblum prepares to smash one of Mike's broken guitars to fulfill his PledgeMusic reward]
Mike Doughty
2013-07-31
City Winery
New York, NY USA
Exclusive download hosted at nyctaper.com
Recorded and produced by acidjack
Soundboard (engineer: Mark)>Aerco MP-2>Sony PCM-D50>24bit/48kHz WAV>Adobe Audition CS 5.5 (light reverb)>Izotope Ozone 5 (EQ, exciter)>Audacity 2.03 (fades, tracking, amplify, balance, downsample)>FLAC ( level 8 )
Tracks [Total Time: 2:22:06]
Set 1
01 Janine
02 I Hear the Bells
03 St. Louise Is Listening
04 [banter1]
05 Your Misfortune
06 Unmarked Helicopters
07 [banter2]
08 Mistress [Red House Painters]
09 Shunned + Falsified
10 Year of the Dog
11 [banter3]
12 The Idiot Kings
13 [banter4]
14 Sleepless
15 Sunken-Eyed Girl
16 [banter5]
17 Grey Ghost
18 Busting Up A Starbucks
19 True Dreams of Wichita
20 [banter6]
21 Take Me Home, Country Road [John Denver]
22 The Book of Love [Magnetic Fields]
23 [encore break 1]
24 Circles
25 [banter7]
26 27 Jennifers
Set 2
27 Super Bon Bon
28 Unsingable Name
29 Soundtrack to Mary
30 Down On the River By the Sugar Plant
31 [Josh Rosenblum smashes Mike's guitar]
32 Soft Serve
33 Madeline and Nine
34 $300
35 Day By Day By
36 Southern Girls/Running Back mashup [Cheap Trick/Thin Lizzy]
37 Where Have You Gone?
38 [banter8]
39 So Far I Have Not Found the Science
40 Tremendous Brunettes
41 Mr. Bitterness
42 Looks [The Student Teachers]
43 Put It Down
44 Na Na Nothing
45 Lazy Bones
46 Looking At the World From the Bottom of a Well
47 Is Chicago Is Not Chicago
If you enjoyed this recording, PLEASE SUPPORT Mike Doughty, visit his website, see him on tour this fall and buy his forthcoming record of Soul Coughing songs reimagined from PledgeMusic.