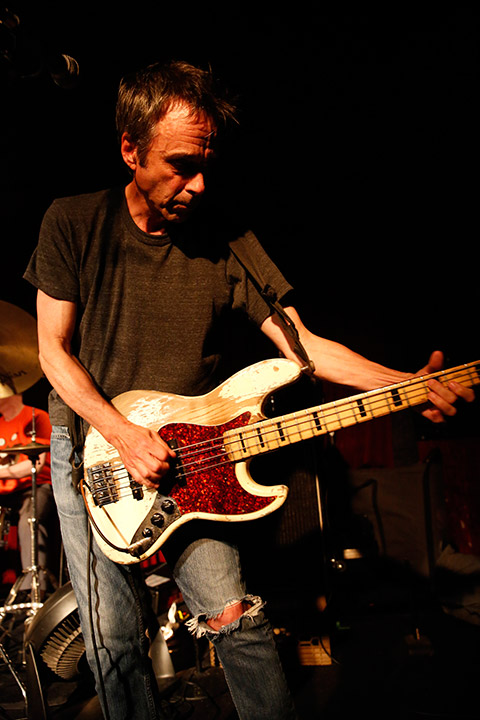 [photos by PSquared Photography]
Mission of Burma didn't hold back on this two set bill on the Maxwell's closing weekend. Each of the two sets featured the same kind of raw energy that has represented not only this band and this club, but the best of independent music over the past 35 years. As we noted in our review of the late set, this was a night to acknowledge history, and this set did plenty of that, but it also reminded us that there is more to come. Many of the people I saw pumping their fists for Burma — myself included — were kids or not even born the first time they played there. On this night, songs like "7s" from their latest, Unsound, sounded right at home next to old, rare numbers like "Peking Spring", which was first released on cassette in 1985 and didn't see broader release until showing up on a 1993 CD compilation. As they did for the second set, the band closed with "Academy Fight Song". Then I turned off my deck, took down my equipment, and took one last look. I would never set foot in Maxwell's again, and after their second set, neither would they. Now Hoboken has gone quiet, but the echoes of thousands of memorable nights remain.
I recorded this set with MBHO cardiod microphones from our usual spot in the venue. Other than a few light spots of wind noise from the A/C ducts, the sound is excellent. Enjoy!
This NYCTaper recording is being hosted on the Live Music Archive.  You can stream the entire show by clicking the song titles below.
Stream "Peking Spring"

Download the Complete Show: [MP3] | [FLAC]
Stream the complete show

Mission of Burma
2013-07-28
Maxwell's
Hoboken, NJ USA
Hosted at nyctaper.com
Recorded and produced by acidjack
MBHO KA200N>MBP603 (FOB/LOC/PAS)>Roland R-26>24bit/48kHz WAV>Izotope Ozone 5 (EQ, effects)>Audacity 2.03 (fades, tracking, amplify, balance, downsample)>FLAC ( level 8 )
Tracks [Total Time 1:18:10]
01 Fell Into Water
02 7s
03 [Chupies]
04 Fun World
05 Dirt
06 Einstein's Day
07 Outlaw
08 Peking Spring
09 This Is Not A Photograph
10 Dead Pool
11 [Panic]
12 Donna Sumeria
13 2wice
14 Let Yourself Go
15 That's How I Escaped My Certain Fate
16 Red
17 [encore break]
18 Secrets
19 Trem Two
20 Academy Fight Song
If you download this recording from NYCTaper, we expect that you will PLEASE SUPPORT Mission of Burma, visit their website, and purchase Unsound from the Fire Records website [HERE] and purchase other Mission of Burma material from the Store at their website [HERE].