[Photos courtesy of Eric Dawson]
Introducing the 23-year-old guitar prodigy Daniel Bachman at their day show event (where he played with Pelt), my friends at Paradise of Bachelors paid Bachman a high compliment indeed when they referred to him as the logical heir of the late, great Jack Rose. To compare anyone, even today's best living guitarists, to Rose might well border on sacrilege for those who follow these types of musicians closely. At least, it would if Bachman didn't live up to the hype. For those who saw him play a solo set of his signature steel string fingerstyle guitar at Raleigh's Long View Center  during the Hopscotch Music Festival on this Friday night — recorded by our buddy David Schwentker — it became clear that he does.
The Chapel Hill based guitarist, originally of Fredricksburg, Virginia, has four solo albums under his belt already, including his two 2012 releases Seven Pines and Oh Be Joyful, plus two more records he recorded as Sacred Harp that were released back in 2010. He's been playing this music, which he calls "psychedelic Appalachia", since he was a teenager. What you hear on this recording is the product of years of Bachman honing his craft, as well as absorbing the lessons learned from sharing stages with the greats, including Rose. This set wandered all over Bachman's catalog, including previewing two new tracks from his forthcoming third album on Tompkins Square, Jesus I'm A Sinner. Both of those songs — "Sarah Anne" and "Blenheim" — show the continuing promise of this fine young musician. Two of these songs — "Pig Iron" and the untitled number — are being recorded now, with release planned for 2014. Yes, you heard it right — Bachman has a new record that's not even out yet, and he's already on to the next project.
This set was recorded by David Schwentker with a direct soundboard feed from the Longview house board. The sound quality is outstanding. Enjoy!
Stream "Pig Iron"

Download the complete show: [MP3] | [FLAC]
Note: All of the material on this site is offered with artist permission, free to fans, at our expense. The only thing we ask is that you download the material directly from this site, rather than re-posting the direct links or the files on other sites without our permission. Please respect our request.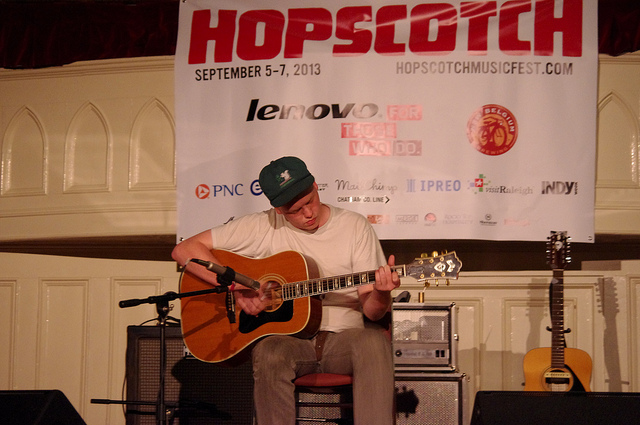 Daniel Bachman
2013-09-06
Hopscotch Music Festival
Long View Center
Raleigh, NC USA
Recorded and produced by David Schwentker
Soundboard feed>Olympus LS-10>24bit/48kHz WAV>Audacity (mix down, tracking, amplify)>Trader's Little Helper>FLAC ( level 8 )
Tracks
01 [guitar warmup]
02 intro
03 Pig Iron
04 Coming Home
05 Sarah Anne
06 [Untitled Lap Guitar]
07 Copperhead
08 Blenheim
09 White Oak
10 We Would Be Building
If you enjoyed this recording, PLEASE SUPPORT Daniel Bachman, visit his facebook page, and buy his records from Tompkins Square or pre-order Jesus I'm A Sinner from Amazon.