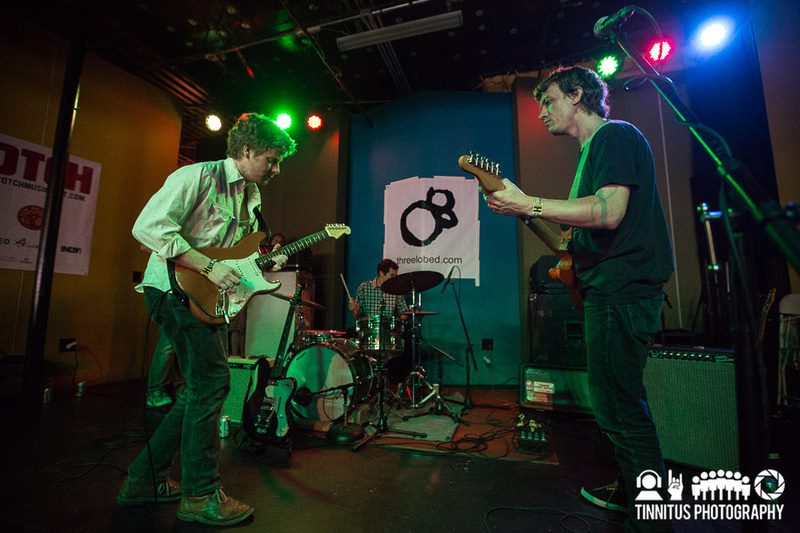 [Photo courtesy of Tim Bugbee at Tinnitus Photography]
You know it's something very, very special when Steve Gunn and John Truscinski (who plays with Gunn in Gunn-Truscinski Duo and their new trio arrangement) team up with Irish guitar phenom Cian Nugent and Jason Meagher (of, among others, No Neck Blues Band and D. Charles Speer & the Helix) for the North American debut of their collaboration Desert Heat. Hopscotch Music Festival is always a special time, but what drew me back for a second year, and will again for a third, was the Three Lobed Recordings/WXDU day show, held again this year at King's Barcade. Among several rare collaborations and one-time appearances, Desert Heat was one of the most hotly anticipated, and by the time these players took the stage, the medium-sized venue had a line out front. Give it one listen and you'll hear why; Gunn and Nugent are among the most creative and exciting guitarists and songwriters of this era, and both were on fire for this special performance that showed off the A side from the new Cat Mask at Huggie Temple 12-inch, the band's sole release, before delving into some unknown territory with a new long form jam currently titled "Desert Whythe". To top it all off, the band tore through Velvet Underground's "Oh! Sweet Nuthin'" with their own special wall-of-guitars twists, with Gunn handling the vocal duties. On a day filled with outstanding performances (many of which will be shared here over time or released by Three Lobed), this was undeniably one of the highest of the highlights.
I recorded this set with a soundboard feed that I customized for both this recording and the simulcast on Duke University's radio station WXDU, plus Schoeps MK4V microphones right at the stage lip. The sound quality is outstanding; easily one of a handful of the best recordings I have ever shared on this site. Enjoy!
Stream and download MP3s of the full set: 

Download the complete show: [MP3] | [FLAC]
Note: All of the material on this site is offered with artist permission, free to fans, at our expense. The only thing we ask is that you download the material directly from this site, rather than re-posting the direct links or the files on other sites without our permission. Please respect our request.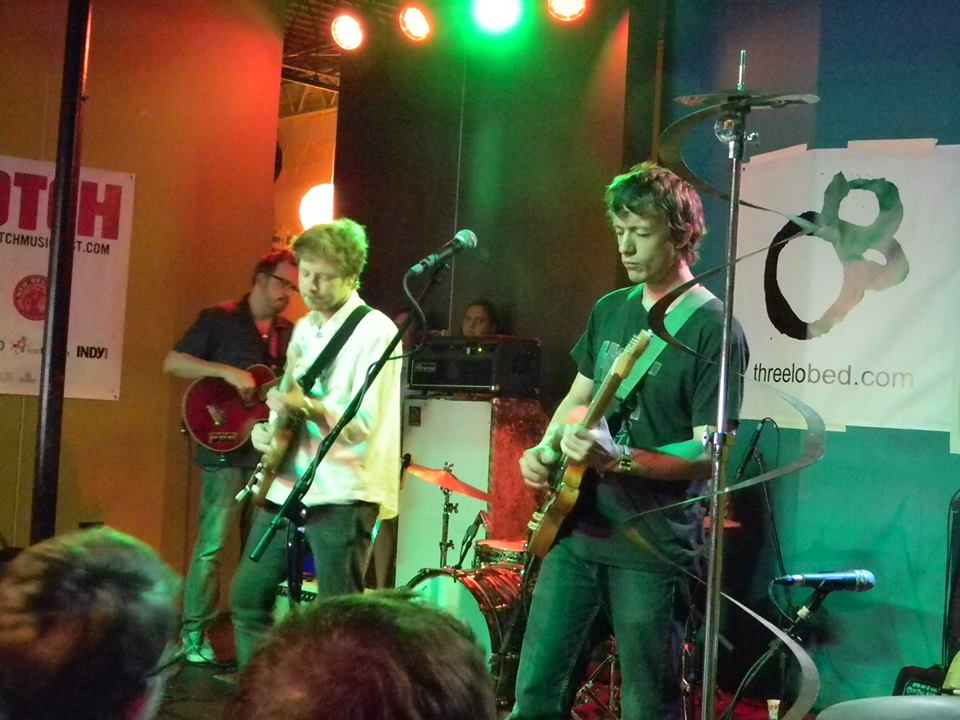 [Photo courtesy of Mark Johnson via the Three Lobed Facebook Page]
Desert Heat
2013-09-06
Three Lobed / WXDU Day Show
King's
Raleigh, NC USA
Schoeps MK4V (onstage)>KC5>CMC6 + Soundboard (custom stereo mix)>Edirol R-44 [Oade Concert Mod]>2x24bit/48kHz WAV>Adobe Audition CS 5.5 (mix down, adjustments)>Izotope Ozone 5 (tube effect, EQ)>Audacity 2.03 (tracking, fades, amplify, balance, downsample)>FLAC ( level 8 )
Tracks
01 [intro]
02 Cat Mask at Huggie Temple
03 [tuning]
04 Desert Whythe
05 Oh! Sweet Nuthin!
Players: 
Steve Gunn – Guitar, Vocals
Cian Nugent – Guitar
Jason Meagher – Bass
John Truscinski – Drums
If you enjoyed this recording, PLEASE SUPPORT THESE ARTISTS by visiting their websites and purchasing the new very limited edition Cat Mask At Huggie Temple 12″ directly [HERE]. For U.S. orders, you can also try contacting your local record store or e-mailing Bull City Records in Durham, NC. You can also buy Gunn-Truscinski and Steve Gunn records from Three Lobed and Gunn's latest from Paradise of Bachelors. Support WXDU by donating and listening to their station!