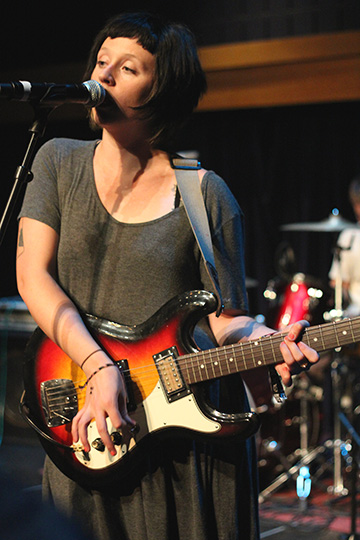 [Photos by Kevin Norris for Triangle Music Blog]
Thanks to Hurricane Sandy, the first time we saw Katie Crutchfield as Waxahatchee, she had to perform an impromptu solo set. Even then, we were impressed by the clarity of her songwriting and the conviction with which she sings. Not long after, her latest record for Don Giovanni, Cerulean Salt became a critics' favorite.
This Waxahatchee show, at the Hopscotch Music Festival, gave a more complete picture of what Crutchfield can do. Kicking off with a  song from her other project Great Thunder, Crutchfield led us through a quick mini-tour of the Waxahatchee canon, including renditions of some of the songs from Cerulean Salt and its predecessor American Weekend that more clearly evoked Crutchfield's punk roots. "Noccalula", streaming below, was completely transformed from the ultra-lo-fi analog recording from American Weekend; likewise, Cerulean Salt numbers like "Lively" were a good bit less subdued at high volume. But it's still the set closer, "You're Damaged", that clinches everything great about Waxahatchee. Touching without being cloying and catchy as hell, it's the strongest testament yet to Crutchfield's songwriting, and one we were thrilled to see, finally, with a full band.
I recorded this set with Schoeps MK41 microphones and a Sound Devices preamp to give extra clarity, with assistance from my man Dan Schram. The sound quality is excellent. Enjoy!
Stream "Noccalula"

Stream "You're Damaged"

Download the complete show: [MP3] | [FLAC]
Note: All of the material on this site is offered with artist permission, free to fans, at our expense. The only thing we ask is that you download the material directly from this site, rather than re-posting the direct links or the files on other sites without our permission. Please respect our request.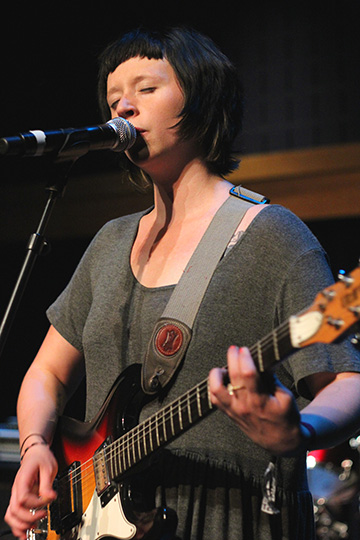 Waxahatchee
2013-09-06
Hopscotch Music Festival
Kennedy Theatre
Raleigh, NC USA
Schoeps MK41 (DINa)>KCY>Z-PFA>Sound Devices USBPre2>Sony PCM-D50>24bit/48kHz WAV>Adobe Audition CS 5.5 (trim)>Izotope Ozone 5 (effects, EQ)>Audacity 2.03 (tracking, amplify, balance)>FLAC ( level 8 )
Tracks
01 [Great Thunder song]
02 Coast To Coast
03 Waiting
04 Lips and Limbs
05 Tangled Envisioning
06 Grass Stain
07 Lively
08 Brother Bryan
09 Noccalula
10 Peace and Quiet
11 American Weekend
12 You're Damaged
If you enjoyed this recording, PLEASE SUPPORT Waxahatchee, like them on Facebook, and purchase Cerulean Salt from Don Giovanni Records [HERE]