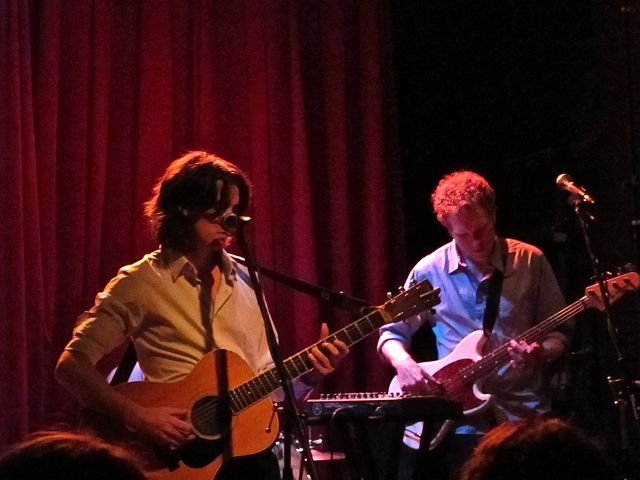 [Photos by acidjack]
Zachary Cale is a classic songwriter in every sense of the word, who balances his aptitude with his six-string with keenly-observed lyrics and an obvious respect for his audience. This show at Union Pool represented the release show for Cale's fourth proper LP, Blue Rider. The album is commendable both for its brevity and consistency; across its eight songs, there is not a weak one among them. Of its standout tracks, Cale played them all at this show, particularly "Hold Fast", whose whimsical guitars and breezy vocal will find favor with Kurt Vile fans, among others. Cale is one of those artists who doesn't seem to really need the studio; this live performance felt completely of a piece with the album in sound and structure, with the songs gaining energy from the Friday night crowd. Along with playing the bulk of Blue Rider, Cale gave us a special treat with a gorgeous cover of Robert Johnson's "Love In Vain".
I recorded this set with Schoeps MK4V microphones from our usual spot in the venue, plus a limited soundboard feed consisting primarily of vocals and keyboards. At points, the keyboards are a touch loud in the mix, and there is a level of crowd noise not surprising for a Friday night crowd. Nonetheless, the overall sound quality is excellent. Enjoy!
Cale is on tour for October and November in a mix of headlining appearances and shows with Crystal Stilts. His next New York appearance will be with Crystal Stilts at Bowery Ballroom on Halloween. Tickets for that show are available here.
Stream "Hold Fast"

Download the complete show: [MP3] | [FLAC]
Note: All of the material on this site is offered with artist permission, free to fans, at our expense. The only thing we ask is that you download the material directly from this site, rather than re-posting the direct links or the files on other sites without our permission. Please respect our request.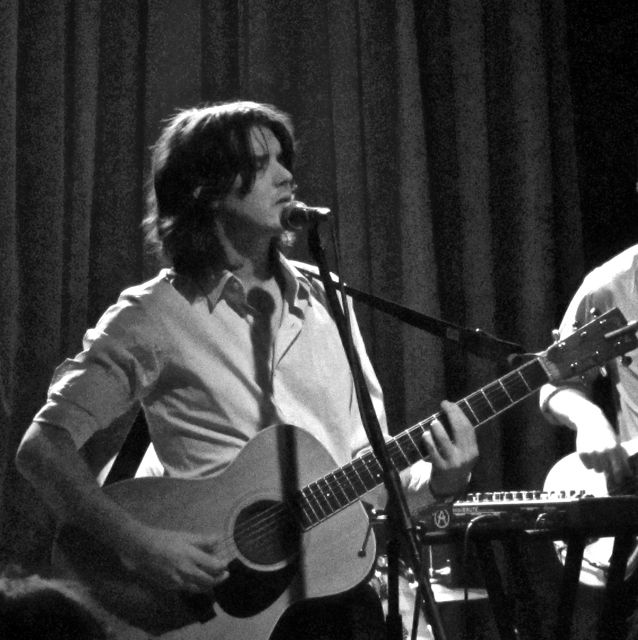 Zachary Cale
2013-09-27
Union Pool
Brooklyn, NY USA
Exclusive download hosted at nyctaper.com
Recorded and produced by acidjack
Schoeps MK4V (DFC, at SBD, PAS)>KCY>Z-PFA + Soundboard (mono, vocals/guitar/keys feed)>Roland R-26>2x24bit/48kHz WAV>Adobe Audition CS 5.5 (edits to SBD, mix down)>Izotope Ozone 5 (EQ, effects, thick/warm compressor)>Audacity 2.03 (fades, tracking, amplify, balance, downsample/dither)>FLAC ( level 8 )
Tracks
01 Unfeeling
02 Hold Fast
03 Blood Rushes On
04 Wayward Son
05 Sandcastles
06 [banter]
07 Love In Vain [Robert Johnson]
08 [banter2]
09 Dear Shadow
10 Noise of Welcome
If you enjoyed this recording, please support Zachary Cale by visiting his website and buying his records from his online store or from his bandcamp page.