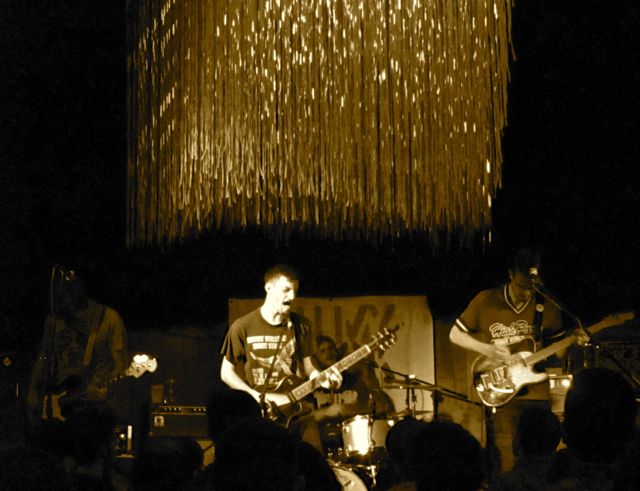 [Photos by acidjack]
The Toronto band PUP are one of the latest bands to cement that city's status as one of the global epicenters of modern punk. From breaking bands like METZ to well established acts like Fucked Up, the scene continues to be fertile ground for vital music of the harder-edged variety. Straight from the kickoff track "Lionheart", from their self-titled debut, PUP's set at the Oh My Rockness CMJ show at Cameo Gallery put them on a lot of fans' radar screens. Making the most of their time, the band barely took a breather between songs as they delivered rapid-fire doses of their hook-laden, head-bobbing tunes like "Back Against the Wall" and "Lionheart". But it was the set closer, "Reservoir" that really sealed the deal. It's one of those songs that spins standard young-punk fare and takes it to a darker, more reflective place, and it was a mature, powerful way to end the night.
I read in an interview that the album's producer, veteran Dave Schiffman (responsible for, among others, records by Cass McCombs, Weezer, Red Hot Chili Peppers, and The Mars Volta) wanted the record to sound "like the best show the band had ever played." I haven't seen the band before, so I can't vouch as to whether this is their "best show". But I think, after hearing this, it'll be hard to hear this and not give the record a spin.
I recorded this set in the same manner as the other recordings from this night, with Schoeps MK4V cardiod mics and a soundboard feed of the house mix by engineer Gary Atturio. The sound quality is outstanding. Enjoy!
Stream "Back Against the Wall"

Stream "Reservoir"

Download the complete show: [MP3] | [FLAC]
Note: All of the material on this site is offered with artist permission, free to fans, at our expense. The only thing we ask is that you download the material directly from this site, rather than re-posting the direct links or the files on other sites without our permission. Please respect our request.
PUP
2013-10-17
Oh My Rockness CMJ Showcase
Cameo Gallery
Brooklyn, NY USA
Exclusive download hosted at nyctaper.com
Recorded and produced by acidjack
Soundboard (engineer: Gary Atturio) + Schoeps MK4V>KC5>CMC6>Sound Devices USBPre2>>Edirol R-44 [OCM]>2x24bit/48kHz WAV>Adobe Audition CS 5.5 (align, mix down)>Izotope Ozone 5 (effects, EQ)>Audacity 2.0.3 (fades, tracking, amplify, balance)>FLAC ( level 8 )
Tracks:
01 [intro]
02 Lionheart
03 Back Against The Wall
04 Mabu
05 [banter]
06 Dark Days
07 Don Valley Parkway
08 [instrumental]
09 Yukon
10 Mule
11 Guilt Trip
12 [banter2]
13 Reservoir
If you enjoyed this recording, like PUP on Facebook, follow them on twitter and visit their bandcamp page. If you are in Canada, you can buy their debut album on iTunes Canada. Worldwide coming soon…