Follow @acidjacknyc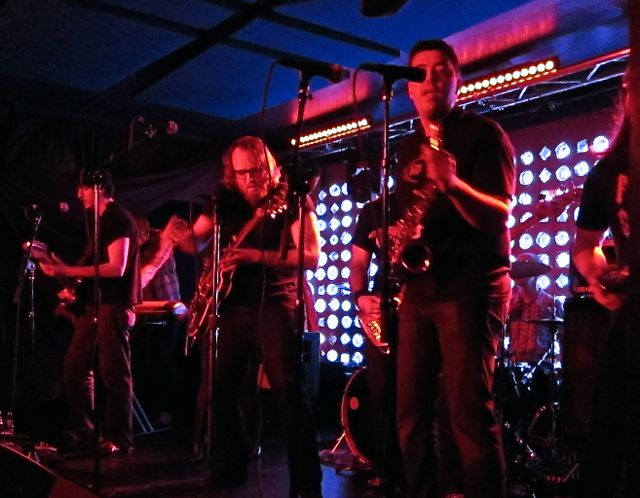 [photos by acidjack]
In this day and age, a band like The Everymen represents a deceptively audacious move. In a rock n' roll universe ruled by microgenres and pressured commercially by laptop geeks, EDM, hip-hop and every manner of crossover in between, The Everymen are, more or less, a really good Jersey Shore bar band. Now, there are still many of those bands out there — the show must go on, down the Shore and elsewhere — but if you limit it to ones with the Everymen's ambitions, well, there's just one. Like a baby version of the E Street Band, this is old-style, big-tent, big-band rock that's proud of its roots but seeking to plant its seed elsewhere. How many bands with this aesthetic play venues like Baby's All Right, in still-musically-relevant Williamsburg? More importantly, how many of them could ever claim to actually pull it off?
Much of the credit for The Everymen's broad appeal goes to frontman Mike V, an affable dude whose big heart and natural charisma make him a fit in any bar serving High Life and Narragansett, whether ironically or otherwise.  He's a born entertainer, an easy jokester with the crowd, and, judging by this show, a maker of excellent setlists. Any band who kicks off their record release show (for the band's second full-length, Givin' Up on Free Jazz) with a cover of Black Sabbath's "War Pigs" is clearly playing for keeps. From there, the band took us through all of Free Jazz, which adds stronger songwriting to the style of their 2012 LP New Jersey Hardcore, and takes further advantage of the band's deep roster of players. The album's leadoff single, "Spain" is as good an example as any, with Mike V and Catherine Herrick sharing lead vocals, the horns blaring, and the keys lighting a fire under some blazing guitars. But The Everymen weren't content to just begin with a bang; after the album was done, we were treated to covers of Def Leppard, Billy Ocean and INXS, plus some of the best-loved of the band's older numbers including the always-massive set closer "Boss Johnny and the Get Lucky". The Everymen may have broad appeal, but not everyone can do it like they do it.
This recording was made by lead Baby's All Right engineer Devin Foley using the house multitrack system, including Audio Technica 4041 microphones capturing the feel of the room. The sound quality is outstanding. Enjoy!
Stream "Spain"

Stream "When the Going Gets Tough [Billy Ocean]"

Download the complete show: [MP3] | [FLAC] 
Note: All of the material on this site is offered with artist permission, free to fans, at our expense. The only thing we ask is that you download the material directly from this site, rather than re-posting the direct download links or the files on other sites without our permission. Feel free to re-post the Soundcloud links. Please respect our request.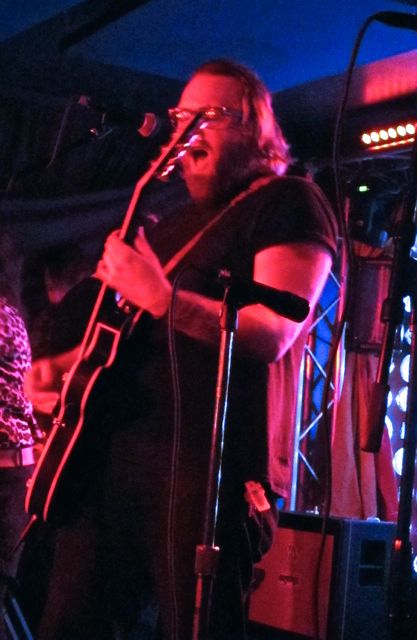 The Everymen
2014-05-19
Baby's All Right
Brooklyn, NY USA
Exclusive download hosted at nyctaper.com
Recorded by Devin Foley
Produced by acidjack
Digital Multitrack (22 tracks)>Adobe Audition CS 5.5 (mix down, other effects)>Izotope Ozone 5 (other effects, compression)>Audacity 2.0.3 (tracking, fades, amplify, balance, downsample, dither)>FLAC ( level 8 )
Tracks [Total Time 1:13:35]
01 War Pigs [Black Sabbath] (fades in)
02 Bl'ast Off!
03 A Girl Named Lou Pt. 2
04 Spain
05 [banter]
06 Fingers Crossed
07 Another Thing to Lose
08 All I Need Is You
09 NJHC
10 Ain't Good Enough For You
11 Ballad of Sarin
12 A Thousand Miles
13 Izzy
14 Dance Only (Only Dance)
15 Bringing On the Heartbreak [Def Leppard]
16 When the Going Gets Tough [Billy Ocean]
17 Coney Island High
18 Don't Change [INXS]
19 Boss Johnny & The Get Lucky
If you enjoyed this recording, PLEASE SUPPORT The Everymen, like them on Facebook, and buy Givin' Up on Free Jazz from their bandcamp page.