Follow @acidjacknyc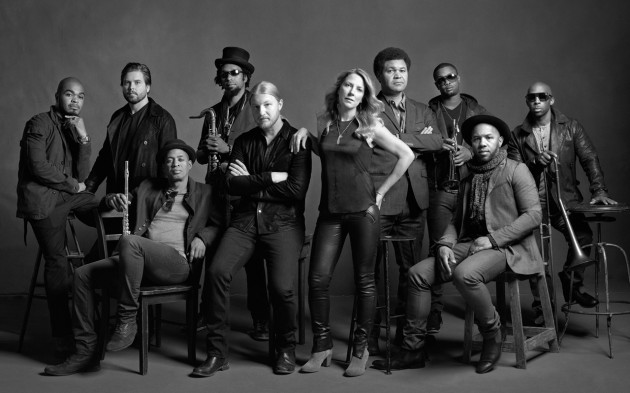 [band promotional photo]
Rock n' roll has had its share of power couples over the years, but the combination of the blues singer Susan Tedeschi and the legendary slide guitarist Derek Trucks was a formidable one indeed.  Tedeschi Trucks Band has been active for the better part of this decade, giving a more mature perspective on the sounds that made each of these musicians famous. On this crystal clear Mountain Jam night, TTB rolled in as an eleven-piece and played a soaring 90 minutes of blues-inflected rock that gave its signature members plenty of room to show off their chops. We got some especially deep jamming during "Bound for Glory" and "The Storm", the latter of which reminded us that we were really, really happy to be bone-dry at a Mountain Jam for once. With Gov't Mule (that recording here) coming up next, by the time TTB left the stage the night was still young, but we had already had our hair blown back.
I recorded this set with MBHO microphones from the "taping area" near the soundboard. While the effects of occasional wind and distance can be heard at times, the MBHOs do an excellent job of adding vocal clarity and presence that compensates for those issues, and the Aerco preamp adds warmth to the sound of these microphones. Enjoy!
Download the full set from the Live Music Archive: [MP3] | [FLAC]
Stream the entire show:

Tedeschi Trucks Band
2014-06-07
Mountain Jam X (West Stage)
Hunter, NY USA
Hosted at nyctaper.com
Recorded and produced by acidjack
MBHO KA200N/MBP603>Aerco MP-2>Sony PCM-M10>24bit/44.1kHz WAV>Izotope Ozone 5 (EQ, effects, M/S compression)>Adobe Audition CS 5.5 (adjust levels, multiband compression, fades)>Audacity 2.0.3 (track, amplify, balance, dither)>FLAC ( level 8 )
Tracks [Total Time 1:26:31]
01 [intro]
02 Idle Wind
03 Misunderstood *
04 Darling Be Home Soon
05 Get What You Deserve
06 Who Knows What Tomorrow May Bring *
07 Midnight In Harlem
08 Made Up Mind
09 The Sky Is Crying
10 Bound For Glory
11 Keep On Growing
12 [banter]
13 More and More
14 The Storm
* with Eric Krasno
If you enjoyed this recording, please support Tedeschi Trucks Band, visit their website, and buy their merch and records there.