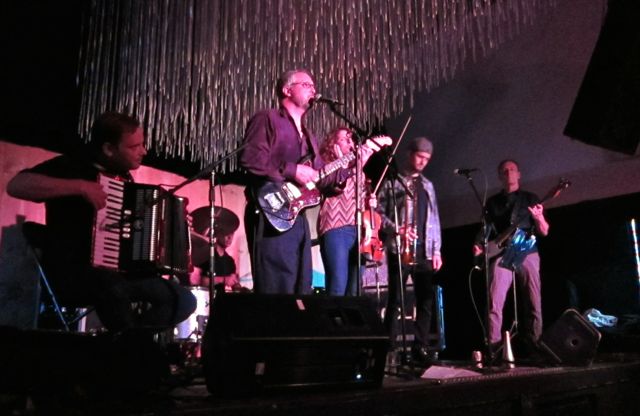 [photos by acidjack]
Heroes of Toolik are an art rock band from the New York/New Jersey area comprised of veteran players – Peter Zummo (trombone) is an avant jazzer (ex-Lounge Lizards), while Arad Evans (guitar/vocals) has toured with avant-noise luminaries Rhys Chatham and is a current member of the Glenn Branca Ensemble. Ernie Brooks (bass) was in the original Modern Lovers, while Jennifer Coates (violin/vocals) is an accomplished old style country fiddler with her own band, Jenny Gets Around. What comes together among the group of them is a brand of well-informed rock n' roll that draws on these influences without over-complicating itself.
This show at Cameo Gallery served as a warmup for Heroes of Toolik's just-released Aquarium School seven-inch, and found the band previewing that material alongside work from their 2012 debut LP Winter Moon. The band performs with the cohesive, relaxed vibe you'd expect of accomplished musicians, and the stylistic palette of these tunes reflected artists from the Velvet Underground to Zappa and Beefheart to hints (for me) of the Grateful Dead. The band gave us two takes of "Aquarium School", which was also being filmed for video, the better of which came at the end of the set and is the version recorded here. We recommend you check out their upcoming gig on September 24 at the Zurcher Gallery in Manhattan, which should be a fine combination of an art rock band playing among visual artwork. The gallery is featuring work by Michael Dotson and Irena Jurek from now through just after the date of the show.
I recorded this set with Schoeps MK4V microphones and a soundboard feed from the house engineer, Brendon Clark. The sound quality is outstanding. Enjoy!
Download the complete show: [MP3] | [FLAC]
Stream the complete show: 

Note: All of the material on this site is offered with artist permission, free to fans, at our expense. The only thing we ask is that you download the material directly from this site, rather than re-posting the direct links or the files on other sites without our permission. Please respect our request.
Heroes of Toolik
2014-05-14
Cameo Gallery
Brooklyn, NY USA
Exclusive download hosted at nyctaper.com
Recorded and produced by acidjack
Schoeps MK4V (FOB, DFC, PAS)>KC5>CMC6>Sound Devices USBPre2 + Soundboard (live mix: Brendon Clark)>>Edirol R-44 [OCM]>2x24bit/48kHz WAV>Adobe Audition CS 5.5 (mix down, adjust levels, compression)>Izotope Ozone 5 (EQ, effects)>Audacity 2.0.3 (tracking, fades, amplify, balance, downsample, dither)>FLAC ( level 8 )
Tracks
01 Young Venus
02 Something Like Night
03 Blind Man's Stare
04 Yellow-Haired Sea
05 Lou Reed
06 Perfect
07 Aquarium School
08 F String
If you enjoyed this recording, please support Heroes of Toolik, like them on Facebook, and buy the Aquarium School 7″ here.