Follow @acidjacknyc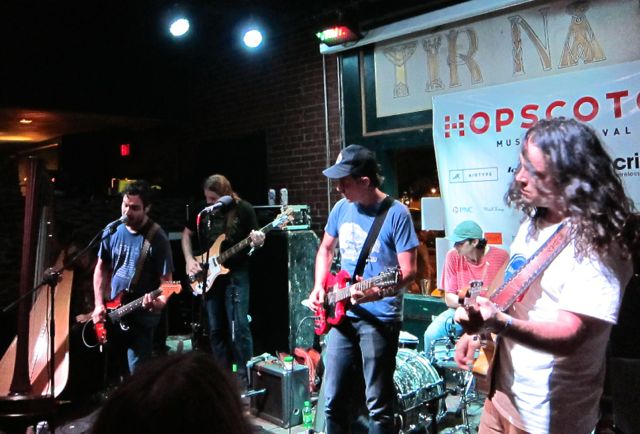 [photos by acidjack]
Day two of the Hopscotch Music Festival was one filled with surprises. I started the day with the Three Lobed / WXDU Day Show and its many one-off collaborations, and ended with this last-minute collision between Philadelphia's twin scuzz-rock juggernauts. Purling Hiss and Spacin' are the best kind of kindred spirits, both being offshoots of the band Birds of Maya. That, and each of them crank their amps to eleven and check any and all pretension at the door. The combined band played three of each others' songs each, including Spacin's classic cover of MC5's "American Ruse". The six songs stretched for a total of forty-five minutes, offering ample opportunities for guitar pyrotechnics from all. If minds hadn't been blown enough already, the band was joined for the final number, Hiss' "Almost Washed My Hair", by Philadelphia harpist Mary Lattimore (fresh from her Three Lobed/WXDU collab with Thurston Moore) and Steve Gunn (similarly on deck after an epic performance with William Tyler and members of Yo La Tengo, which is posted here). If you doubt how a harpist can make her presence felt with four blaring guitars already on stage, well, you ought to get to know Lattimore, who added a layer of musical complexity to the roaring proceedings. If today was the day of collaborations, there couldn't have been a better way to end it.
I recorded this set with a soundboard feed from Tir Na Nog engineer Brandon plus Audio Technica 3031 microphones back by the board. Unfortunately, my request to place the mics onstage was denied, meaning they were fairly far back in an echo-y room. As our recordings go on this site, the quality is not the best, but the vibe comes through loud and clear. As the band's own albums hew to a "lo-fi" aesthetic, perhaps in some ways the recording is true to that. With that caveat, enjoy this exceptional performance!
Download the complete show: [MP3] | [FLAC]
Stream the complete show:

Note: All of the material on this site is offered with artist permission, free to fans, at our expense. The only thing we ask is that you download the material directly from this site, rather than re-posting the direct links or the files on other sites without our permission. Please respect our request.
Spacin'/Purling Hiss
2014-09-05
Hopscotch Music Festival
Tir na Nog
Raleigh, NC USA
Exclusive download hosted at nyctaper.com
recorded and produced by acidjack
Audio Technica 3031 (at SBD, ROC)+Soundboard (engineer: Brandon)>Roland R-26>2x24bit/48kHz WAV>Adobe Audition CS 5.5 (align, levels, mix down, compression)>Izotope Ozone 5 (EQ, effects, imaging)>Audacity 2.0.3 (track, amplify, balance, fades, dither and downsample)>FLAC ( level 8 )
Tracks [Total Time 45:49]
01 Sunshine No Shoes [Spacin']
02 Titchy [Spacin']>American Ruse [MC5]
03 Learning Slowly [Purling Hiss]
04 Run From the City [Purling Hiss]
05 [tuning]
06 Almost Washed My Hair [Purling Hiss]*
* with Mary Lattimore on harp and Steve Gunn on guitar
If you enjoyed this recording, PLEASE SUPPORT these musicians. You can pick up Spacin's records at their bandcamp page, and Purling Hiss's records at their bandcamp page and their latest Weirdon over at Drag City.