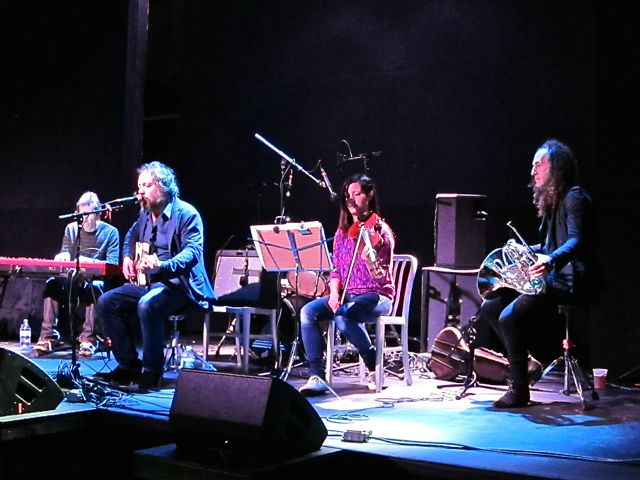 August Wells is a new band filled with an accomplished cast of incredible performers. Led by Ken Griffin, best known for having recorded several well-liked records in the mid-90s with the Irish outfit Rollerskate Skinny, whose album Horsedrawn Wishes remains an essential of the Irish music scene. The band's cast also includes pianist John Rauchenberger, who has played with a wide range of bands including The Favourite Sons, Maggie Estep, and J.C Morrison; horn player Louis Schwadron, who leads the band Sky White Tiger and has played with Radiohead, David Bowie, Elton John, and Grizzly Bear, among others; and violinist/composer Leyna Marika Papach, who has been responsible for numerous scores for film, theater and dance. Griffin's sound has matured beyond Rollerskate Skinny, showing a melancholy that seem to come more easily with the years. "It's all as beautiful as ever / I hope somehow it gets to stay that way" Griffin sings on "Beautiful as Ever". There's a wistfulness in this and many of Griffin's other lines, but also hope. Somehow, things might stay that way.
Griffin and co. took the stage just before Steve Gunn on this night at Rough Trade, and were greeted with an audience ripe for this kind of music. We look forward to seeing this new band more around the city, as they've already played dates at Union Pool, Baby's All Right, and Le Poisson Rouge, among others. The band's next appearance comes this Sunday at the Scratcher Sessions at the legendary East Village bar at 7:30 p.m. The band also has upcoming shows planned with The Frames and on the Irish TV show Other Voices.
I recorded this set in the same manner as the Steve Gunn recording, with Schoeps MK41 supercardiod microphones and a soundboard feed from engineer Nick. The sound quality is outstanding. Enjoy!
Direct download of full set: [MP3] | [FLAC]

Stream the full set:

August Wells
2014-10-12
Rough Trade NYC
Brooklyn, NY USA
Exclusive download hosted at nyctaper.com
Recorded and produced by acidjack
Soundboard (engineer: Nick) + Schoeps MK41 (DFC, PAS, at SBD)>KCY>Z-PFA>Sound Devices USBPre2>>Edirol R-44 [OCM]>2x24bit/48kHz WAV>Adobe Audition CS 5.5 (align, mix down, compression)>Izotope Ozone 5 (EQ, effects)>Audacity 2.0.3 (tracking, amplify, balance, downsample, dither)>FLAC ( level 8 )
Tracks
01 Rest of My Life
02 Mister Sun
03 Beautiful As Ever
04 [banter1]
05 Dancing
06 Paper Gardens
07 Here in the Wild
08 Come On In Out of the Night
August Wells
Band:
Kenneth Griffin – Vocals,guitar
John Rauchenberger – Keyboard
Louis Schwadron – French horn
Leyna Marika Papach – Violin
If you enjoyed this recording, PLEASE SUPPORT August Wells, visit their website, and buy their CD there.