[Photos courtesy of Michael DiGiovanni Photography]

For even the best of bands, there are times during their careers when they want to mix things up a bit to keep it interesting. Not only for their fans but for themselves. For more than 15 years, Lucero has never been afraid to work hard, get on the road less traveled and take some chances. On their current jaunt, billed as the "By The Seat of Our Pants Tour", the alternative country rock/punk group from Memphis are experimenting by playing a few-nights stands in several cities (New York, Boston, Los Angeles and San Francisco), opening with acoustic sets and finishing the evenings with electric sets. With three nights here in New York alone, that makes for a lot of stage time and a lot of music. In addition to a number of songs that are regular staples in Lucero shows, it was thrilling to catch a few that we hadn't heard in awhile and others that we've never heard them play live at all. Ever wanting to please, the guys dug out a sprinkling of deep and rare cuts going all the way back to their first self-released disc, 'The Attic Tapes'. What's been most impressive is how well some of these pieces, already great, translate into something beautiful when stripped down and arranged acoustically. Of course, flying by the seat of your pants does include some hazards; among them, a few false starts and some indecision when fielding song requests from the crowd. But that's just par for the course and part of the risk one takes when walking out on a tightrope without a net. When you have such an entertaining group of musicians like Lucero onstage, drawing from such a deep reservoir of tracks, you don't really seem to mind when something doesn't go quite as planned. And not knowing exactly what's coming next makes it enthralling.
Set up in our regular spot in the balcony at Bowery Ballroom, the venue sound was top notch as usual. Aside from some chatter during the quieter songs, our recording is excellent. We hope you like what you hear as much as we did. Enjoy!
Stream "Wandering Star": 

Stream "San Francisco": 

Direct download of the complete show in MP3 [HERE]
Direct download of the complete show in FLAC [HERE]
If any of the links are no longer working, email nyctaper with a request for the download location of the files.
Follow Johnny Fried Chicken Boy on Twitter
Note: All of the material on this site is offered with artist permission, free to fans, at our expense.  The only thing we ask is that you download the material directly from this site, rather than re-posting the direct links or the files on other sites without our permission.  Please respect our request.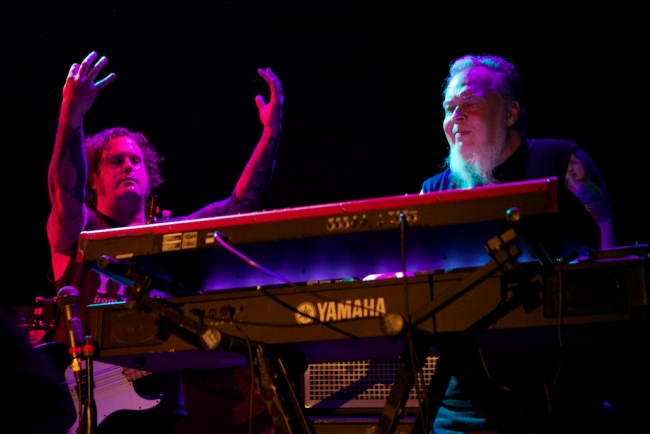 Lucero
Tuesday, November 4, 2014
Bowery Ballroom
New York, NY, USA
Source: AUD > Milab VM-44 Links (cardioid) > Edirol R-44 (WAV @ 24-bit/48kHz)
Lineage: R-44 > PC > Adobe Audition (mixdown, downsample, dither, tracking) > WAV (16-bit/44.1kHz) > TLH (check/fix SBEs, FLAC conversion) > FLAC ( level 8 )
Recorded and produced by: Johnny Fried Chicken Boy
1st SET:
[Total time: 59:38]
01. [1st set intro]
02. Into Your Eyes
03. That Much Further West
04. Wandering Star
05. [banter 1]
06. When You Decided to Leave
07. Across the River
08. [banter 2]
09. Hello Sadness
10. Better Than This
11. Last Night in Town
12. In Lonesome Times
13. The Last Song
14. 100 Miles on the Other Side of Lonesome
15. Ain't So Lonely [false start]
16. Ain't So Lonely
17. Hate and Jealousy
18. The Last Pale Light in the West
19. Toadvine
2nd SET:
[Total time: 1:31:42]
20. [2nd set intro]
21. What Else Would You Have Me Be?
22. Nights Like These
23. Downtown (intro)
24. On My Way Downtown
25. I'll Just Fall
26. Women & Work
27. Raising Hell
28. Texas & Tennessee
29. Nineteen Seventy-Nine
30. San Francisco
31. Here at the Starlite
32. Mom
33. [banter 3]
34. The War
35. [banter 4]
36. All Sewn Up
37. [banter 5]
38. Sixes and Sevens [false start]
39. Sixes and Sevens
40. [banter 6]
41. She's Just That Kind of Girl
42. Tears Don't Matter Much
43. Fistful of Tears
44. [banter 7]
45. Sweet Little Thing
If you download this recording, we expect that you will PLEASE SUPPORT Lucero, visit their website and Facebook page, and purchase their official releases and merchandise [HERE], at Amazon and at iTunes.