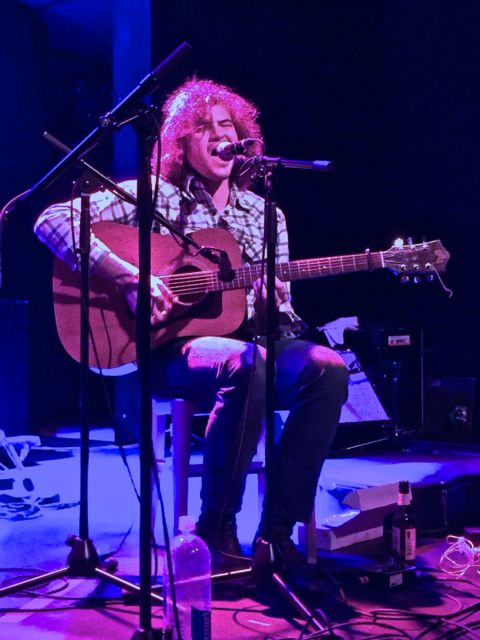 [photos by acidjack]
It seems only appropriate to post a recording of Ryley Walker on the heels of one by the great Hiss Golden Messenger. These two artists represent among the very finest of their time, separated by a generation but potentially on very similar career trajectories. The two are also likely to have a lot of overlap in fans, because those drawn to authenticity, a canny understanding of their musical past, and honest songwriting are likely to find good company with these two. My first experience with Ryley Walker — playing with a full band at the Hopscotch Music Festival — also mirrored my first live experience with HGM two years before. Here, at the Aquarium Drunkard CMJ showcase at Rough Trade, Ryley proved himself alone (with a supporting bassist for part of the set). More to the point, Ryley proved himself an unmitigated master of his art, far beyond his years in poise and style.
Most CMJ sets tend to be truncated versions of artists' "best stuff", run through in perfunctory fashion to get the most bang for the buck in terms of setlist. Walker saw things differently, leading off with a twelve-minute, spine-tingling "Summer Dress" that equaled about a third of the set. That time wasn't wasted, either, as Walker soared on improvised vocal runs that took the song beyond the singer-songwriter realm into something spiritual, his voice becoming its own instrument rather than the mere vessel of lyrics. As with the bulk of the set in North Carolina back in September, this focused entirely on new material in lieu of Walker's outstanding album of earlier this year All Kinds of You. That alone should say something about how prolific this artist is at this point. The ability of the young Chicagoan to distill such pain and emotion into his work is a humbling surprise, the kind of thing you'd never guess from the rest of his happy-go-lucky stage persona. This is a man possessed of rare gifts, and we cannot wait to see them brought to a wider world.
I recorded this set primarily with a soundboard feed by Rough Trade engineer Kameron Biehl, with a small amount of Schoeps audience microphones added for ambiance. Other than a few glitches with a DI during one song, the sound is excellent. Enjoy, and spread the word!
Thanks to Ryley Walker and Aquarium Drunkard for permitting the recording.
Download the complete show via the Live Music Archive: [FLAC] | [MP3]
Stream the complete show:

Ryley Walker
2014-10-24
Rough Trade NYC
Brooklyn, NY USA
Hosted at nyctaper.com
Recorded and produced by acidjack
Soundboard (engineer: Kameron Biehl) + Schoeps MK41 (DFC, PAS, at SBD)>KCY>Z-PFA>Sound Devices USBPre2>Edirol R-44 [OCM]>2x24bit/48kHz WAV>Adobe Audition CS 5.5 (align, mix down, compression)>Izotope Ozone 5 (exciter effects)>Audacity 2.0.3 (tracking, amplify, balance, downsample, dither)>FLAC ( level 8 )
Tracks
01 Summer Dress
02 The West Wind
03 [banter1]
04 Primrose Green
05 [banter2]
06 Sweet Satisfaction
If you enjoyed this recording, PLEASE SUPPORT Ryley Walker, like him on Facebook, and buy his records here.