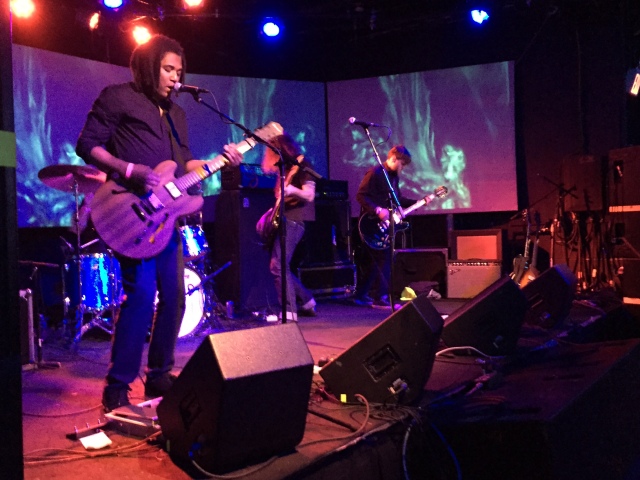 [photo by acidjack]
Hailing from Chicago, post-punkers Pink Avalanche would not be out of place among that city's finest independent bands. Their songs straddle the line between shoegaze and more economical punk rock. Begun as the studio project of guitarist-singer Che Arthur and drummer Adam Reach, the pair add Kortland Chase on guitar and Pete Croke on bass for their second album, The Luminous Heart of Nowhere, and live show. Arthur is a live sound engineer by day and is no doubt responsible for The Luminous Heart of Nowhere's careful production, which manages to sound lush while retaining the harsher edges of the punk rock tunes.
We caught up with Pink Avalanche rounding out their tour with Survival Knife and Hungry Ghost at Brooklyn Night Bazaar. Their set features cuts from their recently released second album, from their first album Wraiths, and a cover of semi-obscure Austin band Starfish's "Warp Factor." For their live set, interstitial soundscapes link the songs together much like the two short instrumental tracks ":" and "::" that bookend "In Empty Spaces" on the album. Though drawing from two albums and a cover, they manage to musically link the separate selections into a narrative that flows through their entire set.
Like the night's other bands, acidjack recorded this set from inside the soundboard cage at the Brooklyn Night Bazaar, with Schoeps MK41 microphones and a soundboard feed that included the engineer, Kenny's, mics at either side of the stage. The sound is excellent. Enjoy!
Download the complete show: [MP3] | [FLAC]
Stream the complete show:

Note: All of the material on this site is offered with artist permission, free to fans, at our expense. The only thing we ask is that you download the material directly from this site, rather than re-posting the direct links or the files on other sites without our permission. Please respect our request.
Pink Avalanche
2014-11-22
Brooklyn Night Bazaar
Brooklyn, NY
Exclusive download hosted at nyctaper.com
Recorded by acidjack
Produced by Eric PH
Soundboard w/ onstage mics (engineer: Kenny) + Schoeps MK41 (LOC, PAS) > KCY > Z-PFA > Sound Devices USBPre2 >> Edirol R-44 [OCM] > 2x24bit/48kHz WAV > Audacity 2.0.5 (set fades, mixdown, EQ, downsample, dither, tracking, tagging) > FLAC (level 8)
01. Chalk and Crimson
02. Petals
03. Masks
04. Corpse
05. In Empty Spaces
06. Warp Factor [Starfish]
07. Silver Tongue
08. Breathe Deep
09. You Lost Me
10. Ten Kings
If you enjoyed this recording, PLEASE SUPPORT Pink Avalanche, visit their website, like them on Facebook and buy The Luminous Heart of Nowhere here.