Tweet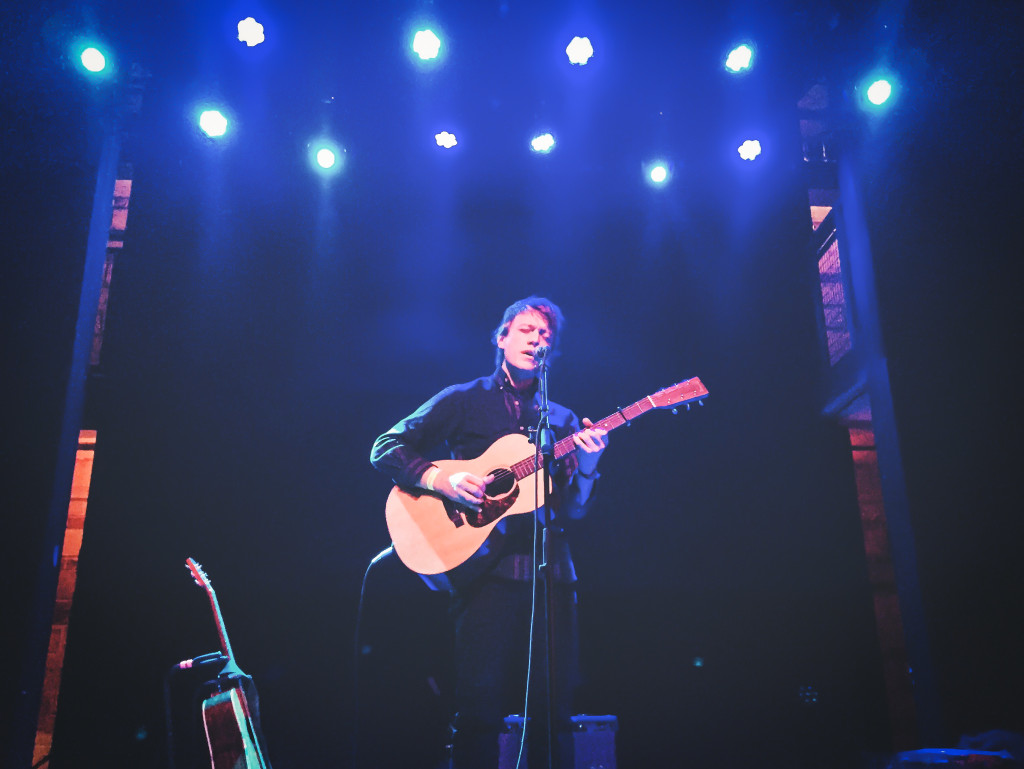 [photos by Jill Harrison]
One of the very best songs on Steve Gunn's Way Out Weather is a song inspired by Steve's former noisy neighbor. In lesser hands, such banal subject matter might result in a bit of a dud. But Gunn turns the humble beginnings of "Milly's Garden" into something wonderful and universal, a meditation on unease and the desire to move on. We last saw Gunn at Rough Trade in October, with his full band in tow, so this was a very different, but equally special kind of performance. Celebrating the first anniversary of the once-troubled (by noise complaints, at least) venue, Gunn played this gig solo but left the songs' guitar explorations. Again, in lesser hands, a ten-plus minute "Old Strange" as a solo opener might not work — but Gunn's kickoff to the night was magical. Poking fun at his trademark relaxed demeanor, Steve warned the Sunday afternoon crowd at the outset that they might fall asleep, but the house gave him their rapt attention, hanging on words shorn of everything surrounding them but his lone guitar. Gunn was in fine form, making us laugh in between songs that he played with dead-serious intent. To put an exclamation mark on the evening, Gunn closed with "Lurker", which first debuted on the Three Lobed Recordings boxed set and was a treat as a full-band version back in October.
Since its inception, Rough Trade has been a valuable add to a neighborhood whose venues are depleting rapidly. Even if its surroundings may be fancier than the DIY spots that came before it, hosting an artist like Steve Gunn for your anniversary show proves that the Rough Trade folks intend to remain a credit to what this neighborhood was.
I recorded this set with Schoeps MK41 microphones and a soundboard feed from house engineer Kyle Lawrence. The sound quality is excellent. Enjoy!
Download the complete show: [MP3] | [FLAC]
Stream the complete show: 

Steve Gunn
2015-01-11
Rough Trade (1st Year Anniversary)
Brooklyn, NY USA
Exclusive download hosted at nyctaper.com
Recorded and produced by acidjack
Schoeps MK41 (FOB/DFC/PAS)>KC5>CMC6>Sound Devices USBPre2 + Soundboard (engineer: Kyle Lawrence)>>Edirol R-44 [OCM]>2x24bit/48kHz WAV>Adobe Audition CS 5.5 (align, mix down, compression)>Izotope Ozone 5 (EQ, harmonic exciter)>Audacity 2.0.5 (tracking, amplify, balance, downsample, dither)>FLAC ( level 8 )
Tracks [Total Time 57:47]
01 [intro banter]
02 Old Strange
03 Shadow Bros
04 Water Wheel
05 [banter2]
06 Wildwood
07 [banter3]
08 Way Out Weather
09 [banter4]
10 Milly's Garden
11 [banter5]
12 Lurker
If you enjoyed this recording, PLEASE SUPPORT Steve Gunn, visit his website, and buy his albums, all of which have "buy" links here.