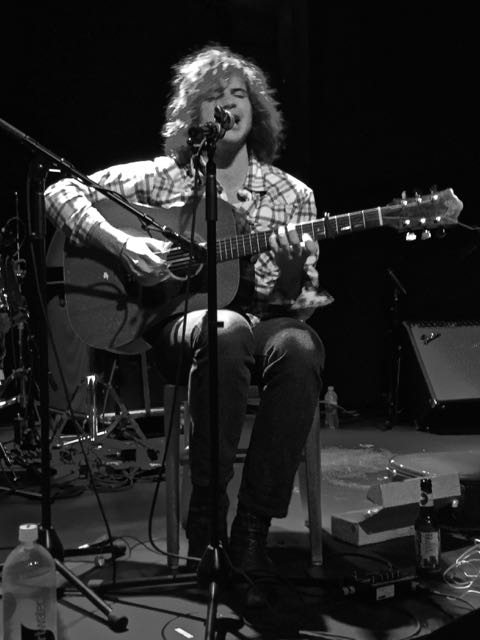 [photo from October 2014 Rough Trade show by acidjack]
Ryley Walker will be a breakout star this year, and the reason won't just be his forthcoming album, Primrose Green. Walker has been touring hard, working out the new material, and consistently wowing audiences. BrooklynVegan brought him to New York for a Red Bull Sound Select event at Baby's All Right, and we couldn't have been happier, having seen Walker last in a similar two-man configuration back in October at Rough Trade.
Once Primrose Green hits shelves, those versions of Walker's songs might well seem polite by comparison. The title track's single, available on Soundcloud and on other streaming services, is a fine version, but pales when up against Walker's fierce version on this night, a ten-minute ramble through his mind featuring an elongated intro and a virtuosic guitar playing that mimicked some of the dissociative elements of the alcoholic beverage for which the song is titled. But if I had to pick from among Walker's post-All Kinds of You material, I think it's "Summer Dress" that will go down as his signature song, as it begins with its loping guitar line under a vocal turn in which Walker yelps, deploys falsetto, flirts with chaos. Watching Walker, you get the sense that he's not even trying to play these songs to please you, but he does anyway. There's a sense of abandon to his work that can't help but grab you; he's feral up there, without anchor. He makes many of the greats to whom he's compared — Bert Jansch, for one — sound like choirboys. As to other distinctions, this set boasted a new song, "Funny Thing She Said", as well as a cover of Van Morrison's "Fair Play" from Veedon Fleece, the latter a worthwhile reimagining that again places Walker right up there with the rarefied company that came before him.
This set was recorded by Baby's engineer Rubes, whose dedication to craft is obvious in his flawless mix of his board feed with the house mics. The sound quality is outstanding. Enjoy!
Walker will be back at Baby's All Right on March 15 with another of our favorites, Kevin Morby. Get tickets here.
Download the complete show via the Live Music Archive: [FLAC] | [MP3]
Ryley Walker
2015-01-13
Baby's All Right (sponsored by BrooklynVegan)
Brooklyn, NY USA
Exclusive download hosted at nyctaper.com
Recorded by Rubes
Produced by acidjack
Soundboard (engineer: Rubes) + Audio Technica 4051>digital multitrack>SD card>Adobe Audition CS 5.5 (mix down individual tracks, limiter)>Izotope Ozone 5 (EQ, compression, exciter)>Audacity 2.0.5 (fades, tracking, amplify, balance, downwsample, dither)>FLAC ( level 8 )
Tracks [Note that two tags of the FLAC and MP3 files need updating]
01 Funny Thing She Said
02 [banter1]
03 Summer Dress
04 [banter2]
05 Primrose Green
06 On the Banks of the Old Kishwaukee
07 Fair Play [Van Morrison]
08 [banter3]
09 Sweet Satisfaction
If you enjoyed this recording, PLEASE SUPPORT Ryley Walker, like him on Facebook, and buy Primrose Green from Dead Oceans.