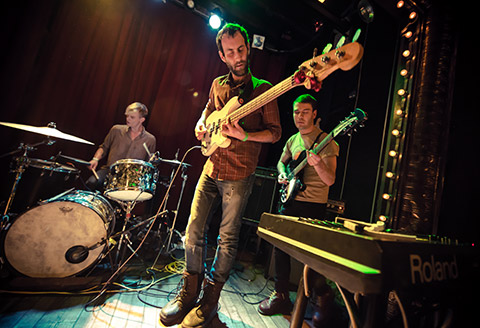 [photos courtesy of P Squared Photography]
Sometimes there's something to the wisdom of crowds. Viet Cong, from Canada's less-celebrated center (Calgary, to be exact) sold out this Union Pool show long before the not-at-all-catastrophic snowstorm hit New York City this week. Still, it takes something special to pack in almost any room on a slushy, freezing night in January, and Viet Cong had the place well past capacity. Half-composed of former members of the band Women, who we were lucky enough to see in their prime, Viet Cong continues that band's art-rock mission, if not expands it. What makes the band's live show flat-out better than their very-well-regarded debut LP is simply that watching them put this music together gives you a clearer sense of how much is going on. The interplay between guitarists isn't simply your usual rhythm/lead dichotomy; guitarists Scott Munro and Daniel Christiansen's instruments are almost in opposition to each other at points, at others answering each other note-for-note. Both guitarists double up on keys as well, but don't think vocalist/bassist Matt Flegel isn't producing himself. Granted, some of the members have history together, but this is still an incredibly tight unit for a band with only the Cassette EP and the new album to their credit.
The band's sound mimics the bleak landscape of their hometown at times; the show, and the album closed with a ten-plus minute dirge named "Death".  But there's also humor running through Flegel's lyrics, when you can make them out, and the Cassette songs, especially, have a more straightforward appeal. Ultimately, though, what comes across most about this band is just how effing good they are. The complexity of their work may suggest that this is music for musicians, but what Viet Cong do so well is make that complex music relatable, even fun, to listen to. This show will set a high bar for the rest of 2015, in the best possible way.
I recorded this set at the soundboard with Schoeps MK4V microphones and a stereo feed from Union Pool engineer Doug. The sound quality is outstanding. Enjoy!
Download the complete show: [MP3] | [FLAC]
Stream the complete show/download individual songs: 

Viet Cong
2015-01-28
Union Pool
Brooklyn, NY USA
Exclusive download hosted at nyctaper.com
Recorded and produced by acidjack
Schleps MK4V (FOB, DFC, PAS)>KCY>Z-PFA>Sound Devices USBPre2 + Soundboard (engineer: Doug)>>Edirol R-44 [OCM]>2x24bit/48kHz WAV>Adobe Audition CS 5.5 (align, mix down, compression, fades)>Izotope Ozone 5 (EQ, tape effect, imaging)>Audacity 2.0.3 (tracking, amplify, balance, downsample, dither)>FLAC ( level 8 )
Tracks [Total Time 49:00]
01 Silhouettes
02 Bunker Buster
03 March of Progress
04 Oxygen Feed
05 Unconscious Melody
06 Pointless Experience
07 Continental Shelf
08 Death
If you enjoyed this recording, PLEASE SUPPORT Viet Cong by buying their albums here, or on Amazon for vinyl.