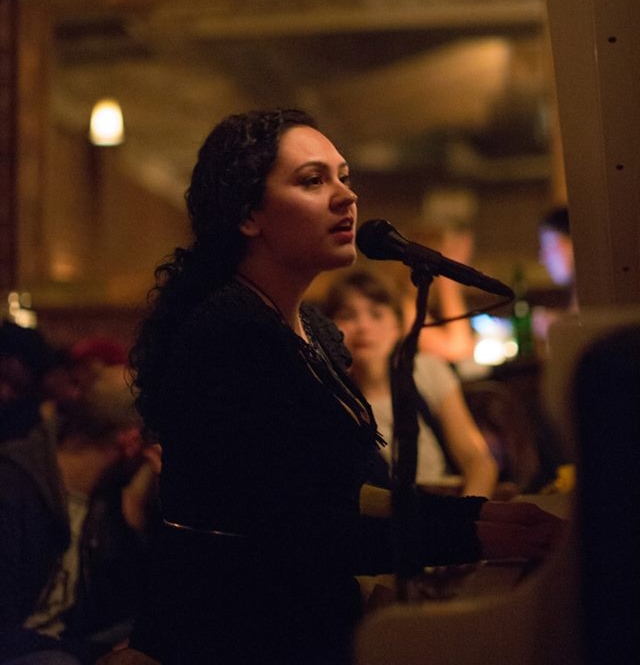 [photos courtesy of David Andrako]
The Hum Residency is a collection of over 30 artists collaborating at Greenpoint's Manhattan Inn every Monday night in April. In the evening, Manhattan Inn is a bar and restaurant featuring a baby grand piano and rotating pianist in a lovely candle lit room in the back. After 10pm, the space is transformed into a concert venue, tables on the floor quickly whisked away while dinner patrons sitting in custom-made wooden booths, dessert plates and the check in front of them, prepare to enjoy a special evening of music in what will be a standing-room only crowd.
Each Monday night features three sets of collaborating artists and for the first act of this night, Brooklyn's Teletextile and Belle Mare huddled around the house piano. Teletextile is no stranger to intimate sets as we previously featured them for an indoor Backyard Brunch session in 2011 and both bands delivered an equally good performance.
For the second act, Renata Zeiguer of Cantina and Cassandra Jenkins shared the floor creating a seven piece ensemble complete with drum kit. The floor was impassable, cables and guitar peddles covering every last inch of available space on the floor, and the artists were literally surrounding my microphones.
The final act was the powerful duet of Shilpa Ray amd Deva Mahal. Shilpa is releasing a new album called Last Year's Savage on May 19, 2015 (Northern Spy Records), and she'll be playing a record release show at Rough Trade on May 23rd.
I recorded this unique set using a pair of Schoeps MK4 Cardioid microphones on-stage in the a classic ORTF setup which was re-positioned for each artist. The audience recording was mixed with a soundboard feed provided by Manhattan Inn's Engineer John. The audience was incredibly respectful during this intimate set and the results are outstanding. We hope you enjoy!
Download the complete show – Teletextile and Belle Mare: [MP3] | [FLAC]
Download the complete show – Renata Zeiguer (Cantina) and Cassandra Jenkins: [MP3] | [FLAC]
Download the complete show – Shilpa Ray and Deva Mahal: [MP3] | [FLAC]
Note: All of the material on this site is offered with artist permission, free to fans, at our expense. The only thing we ask is that you download the material directly from this site, rather than re-posting the direct links or the files on other sites without our permission. Please respect our request.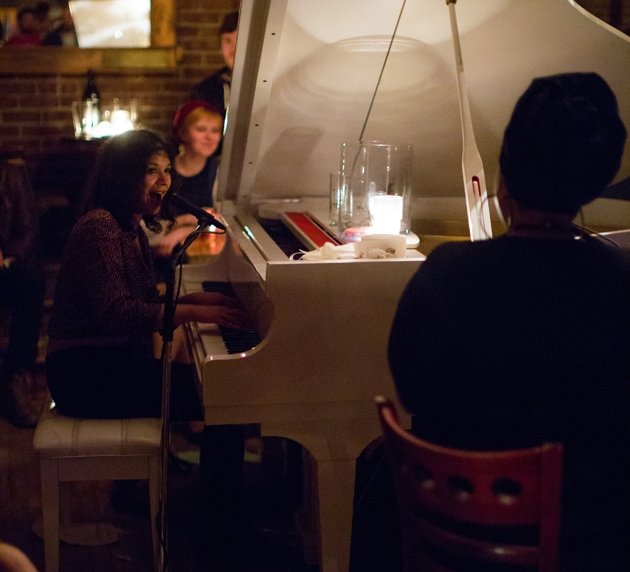 The Hum Residency
Manhattan Inn
Brooklyn, NY
2015-04-06
Exclusive download hosted at nyctaper.com
Recorded and Produced by hi and lo
Source: Soundboard (Engineer: John) + Schoeps MK4 (ORTF) > KC5 > PFA > Naiant PFA > Sound Devices 744T @ 24 bit / 48 kHz
Teletextile and Belle Mare:
1. Gold Green
2. All the Time
3. Rehearsed Lines
4. The Boat of the Fragile Mind
5. Distant Places
6. Girl
Cassandra Jenkins and Cantina:
01. Basement Bug
02. Cartoon
03. Wayside
04. Follow Me Down
05. Disco Death Dance
06. Hotel Lullaby
07. Tennessee Waltz
08. Shame
Shilpa Ray and Deva Mahal:
1. Empire City (Deva Mahal)
2. I'd Rather Go Blind
3. Genie's Drugs
4. Dedicated to the One I Love
5. Too Late
6. Shilpa Ray's Got A Heart Full of Dirt
If you enjoyed this recording, please support The Hum Residency by visiting their Facebook page and attending any of their FREE Monday night shows at Manhattan Inn in April!.