[Photos by Jamie Langley]
Even though he's Philadelphia-based, New York looks more and more like Chris Forsyth's home turf, having already played a couple shows here this year. On a short break between recording and mixing their next record for No Quarter, Forsyth and the Solar Motel crew stopped by NYC for a one-off with likeminded jammers Howlin Rain (their set posted here). This set from Baby's All Right is comprised entirely of new material that's slated to appear on that next record: "High Castle Rock" and "The Rarity of Experience, Parts 1–2" we've heard before but "Anthem" and "Harmonious Dance" are completely new to us. The new one won't drop until 2016, so in the mean time we've got you covered with another live Solar Motel excursion.
Baby's FOH Harrison Fore recorded this set with a board feed and the Baby's room mics. I mixed those two sources in post-production. It might be our best Forsyth capture yet. Dig in!
Forsyth also has an upcoming collaboration with Koen Holtkamp of Mountains called The Island and due out on Trouble in Mind this fall.
Downloads are available at the Live Music Archive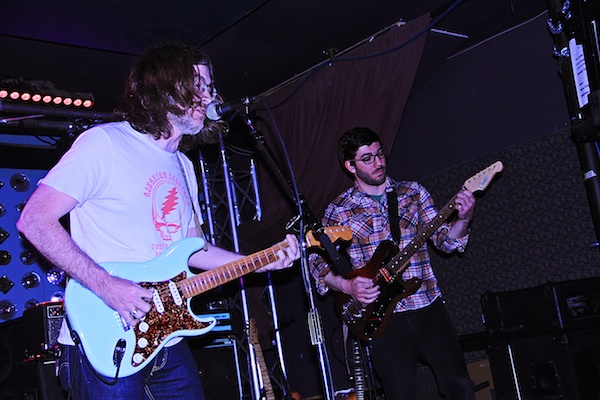 Chris Forsyth & The Solar Motel Band
2015-04-18
Baby's All Right
Brooklyn, NY
Exclusive download hosted at nyctaper.com
Recorded by Harrison Fore
Produced by Eric PH
Soundboard (engineer: Harrison) + Audio Technica 4051 > 4x Mono WAV (24/48) > Adobe Audition CC (align, mixdown) > Izotope Ozone 5 (EQ, exciter) > Audacity 2.0.5 (amplify, fades, downsample, dither, tracking, tagging) > FLAC (16/44.1, level 8)
Tracks [38:00]
01. Anthem
02. [banter]
03. The Rarity of Experience, Parts 1-2
04. [banter]
05. High Castle Rock
06. [banter]
07. Harmonious Dance
Support Chris Forsyth & The Solar Motel Band: Website | Facebook | Buy Intensity Ghost from No Quarter