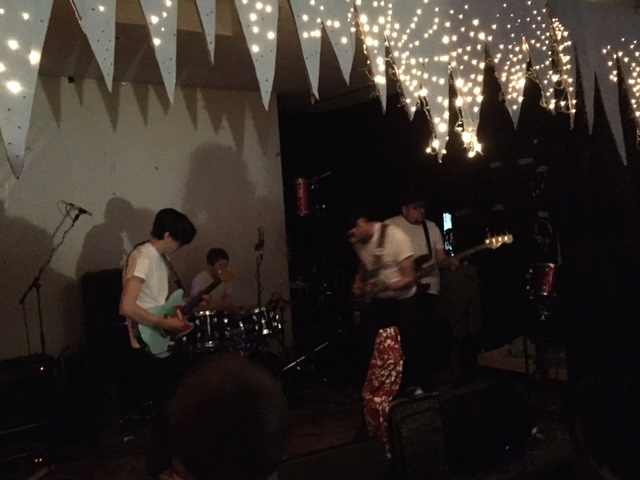 [Photo by acidjack]
Media Jeweler are a new-ish four piece from the OC, and since 2013 they've been laying down a category-defying brand of post-rock with complex, overlapping rhythms and repeating motifs. Acidjack and I stumbled upon them last month playing an opening set at Shea Stadium. We were blown away by their unique jams and a set crafted not like a collection of disparate elements but as a concise and deliberate piece. That ability carries over to their upcoming album, $99 R/T HAWAII, for which I scored a sneak preview that lives up to the high expectations conjured by their live performance. The band was in town for one night only, stopping off at Shea after recording in Providence, RI and this marks their first live appearance outside of California. The album is due out soon, but in the meantime you can catch Media Jeweler at some live dates out by their home turf. They're planning a return to the east coast this fall, a visit I'm already looking forward to.
This set was recorded by Shea Stadium engineer, Nick Pitman. I mixed down the multitrack files and the sound is excellent. I hope you enjoy it as much as I do!
Download the complete show: [MP3] | [FLAC]
Stream the complete show:

Note: All of the material on this site is offered with artist permission, free to fans, at our expense. The only thing we ask is that you download the material directly from this site, rather than re-posting the direct links or the files on other sites without our permission. Please respect our request.
Media Jeweler
2015-04-03
Shea Stadium
Brooklyn, NY
Exclusive download hosted at nyctaper.com courtesy of liveatsheastadium.com
Recorded by Nick Pitman
Produced by Eric PH
Soundboard multitrack > Adobe Audition CC > Izotope Ozone 5 > Audacity 2.0.5 (amplify, fades, downsample, dither, tracking, tagging) > FLAC (16/44.1, level 8)
Tracks [25:12]
01. Untitled
02. No Exit
03. Passport Invalid
04. Blistered
05. Looking Glass
06. Looking Back
07. Looking Glass (Reprise)